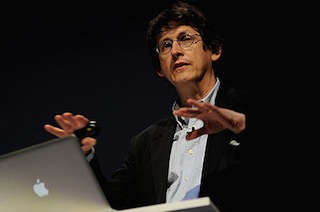 In a column Monday evening, Guardian editor Alan Rusbridger described his paper's recent battles with government officials over the Guardian's possession of potentially sensitive material, and linked them to the U.K.'s detention of David Miranda this weekend as part of the British government's concerted effort to crack down on surveillance reporting.
The Guardian has published numerous pieces by Glenn Greenwald on Edward Snowden's leaked material taken during his time at the NSA, material which included classified information about the espionage projects of England's GCHQ. Rusbridger said that not long after the articles, the paper began getting regular visits from British agents demanding the materials.
A little over two months ago I was contacted by a very senior government official claiming to represent the views of the prime minister. There followed two meetings in which he demanded the return or destruction of all the material we were working on. The tone was steely, if cordial, but there was an implicit threat that others within government and Whitehall favoured a far more draconian approach.

The mood toughened just over a month ago, when I received a phone call from the centre of government telling me: "You've had your fun. Now we want the stuff back." There followed further meetings with shadowy Whitehall figures. The demand was the same: hand the Snowden material back or destroy it. I explained that we could not research and report on this subject if we complied with this request. The man from Whitehall looked mystified. "You've had your debate. There's no need to write any more."
RELATED: U.K. Defends Detention of Greenwald's Partner, Citing 'Stolen Information'
Rusbridger explained that the digital storage of information, and its existence across continents—much of the work on the articles is done in New York, and Greenwald lives in Brazil—made destroying or confiscating it pointless, a fact which did not deter the agents.
The man was unmoved. And so one of the more bizarre moments in the Guardian's long history occurred—with two GCHQ security experts overseeing the destruction of hard drives in the Guardian's basement just to make sure there was nothing in the mangled bits of metal which could possibly be of any interest to passing Chinese agents. "We can call off the black helicopters," joked one as we swept up the remains of a MacBook Pro.
Rusbridger ended his piece with a warning to other journalists. "One day it will be their reporting, their cause, under attack," he wrote. "But at least reporters now know to stay away from Heathrow transit lounges."
Read the full article HERE.
[h/t the Guardian]
————
>> Follow Evan McMurry (@evanmcmurry) on Twitter
Images via the Guardian
Have a tip we should know? tips@mediaite.com