Guess Where PGA Moved Their Tournament After Pulling It From One of Trump's Golf Courses?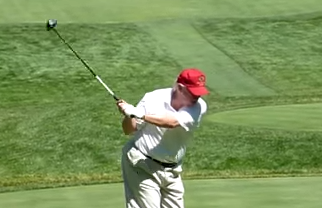 So, you know how Donald Trump takes the stage at his rallies and yells, "Who's gonna pay for the wall?" so the fans assembled can respond "Mexico!"?
It honestly seems like a fun game, so why don't you and I try to play? When I ask a question, you say, "Mexico!" Okay? Ready? Here we go!
Where is the PGA Wold Golf Championship being held this year after commissioner Tim Finchem announced it won't be held at Trump National Doral Miami anymore?
MEXICO!
Exhilarating! I can see why Trump does this with his voters now! But for as much fun as that game seems to be when it's about building walls, Trump seems very unhappy that Mexico is getting the golf tournament that has been held in Miami for over a century. Here's what he said to Sean Hannity about it last night:
I just heard that the PGA Tour is taking their tournament out of Miami and moving it to Mexico. . . . They're moving it to Mexico City — which, by the way, I hope they have kidnapping insurance. But they're moving it to Mexico City. And I'm saying, you know, what's going on here? It's so sad when you look what's going on with our country.
As for "what's going on here," Finchem, at least, does seem to agree, in a sense, that "it's so sad when you look what's going on with our country," but maybe not quite in the way Trump had in mind. Per the Washington Post, here's what the commissioner said during the announcement that the tournament was moving:
Donald Trump is a brand — a big brand — and when you are asking a [sponsor] to invest millions of dollars in branding a tournament and they're going to share that brand with a host . . . it's a difficult conversation. The politics may have contributed some since he's been running.
Yeah, the politics — the remark about "kidnapping insurance" during an interview about a presidential campaign, for instance — could have had something to do with it, indeed.
The golf giant has spoken out against Trump's politics before. In July of last year, they condemned what he said about Mexicans being criminals and racists. Later, they spoke out against his belief that Muslims should be halted from entering the United States. At that time, they said, "Immediately after the conclusion of the [March] 2016 tournament, we will explore all options regarding the event's future."
That's what they did, too, following in the footsteps of PGA of America, which moved the Grand Slam of Golf away from a Trump-owned course last October, they just up and moved it.
The world's third-ranked golfer, Rory McIlroy, responded by musing, "It's quite ironic we're going to Mexico after being at Doral. We'll just jump over the wall."
[image via screengrab]
For more from Lindsey, try Twitter or Facebook.
Have a tip we should know? tips@mediaite.com