Gun Rights Groups to Stage Fake Mass Shooting on TX Campus to Protest Gun-Free Zones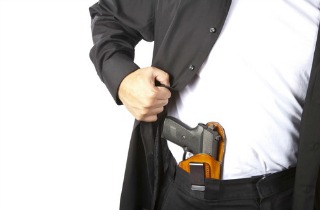 Two gun rights groups want to take a stand against gun-free zones with a pretty big demonstration: a protest walk followed by a staged mass shooting event on the University of Texas campus.
According to The Austin American-Statesman, Come and Take It Texas and DontComply.com are organizing what a spokesman described as a "fake mass shooting." Matthew Short said they'll use fake blood, cardboard weapons, gun noises played from bullhorns, and people to play first responders.
He explained, "Criminals that want to do evil things and commit murder go places where people are not going to be able to stop them. When seconds count, the cops are minutes away."
The group's Facebook event page, titled Life and Liberty Walk To End Gun Free Zones, tells people "After putting up our guns we will return to the UT campus to put on a theatrical performance starting at 2:30pm. This will be an epic event."
Back in June, Texas Governor Greg Abbott signed into law legislation expanding people's rights to carry handguns on college campuses. However, public universities are still able to set certain guidelines around that. A few months ago, some UT students protested the new law with a #CocksNotGlocks campaign.
When asked about concerns that a fake mass shooting might be in bad taste, Short said "not at all" because their ultimate goal is to make "criminals… fear the public being armed."
After initial reports came out and negative comments started appearing on the group's Facebook page, the group responded with this message:
This is a positive walk to protest gun free killing zones and this page will maintain a positive response. You do not like what we are promoting please start your own walk and demonstrations on how you plan on saving lives in your gun free king zones. This is NOT about open carrying, this IS about my/our children's safety on school property that WE are paying for.
[h/t Daily Beast]
[image via Shutterstock]
— —
Follow Josh Feldman on Twitter: @feldmaniac
Have a tip we should know? tips@mediaite.com
Josh Feldman - Senior Editor