Hannity Tweets About Monologue on 'Deep State's Allies' in Media, Gets Trump Retweet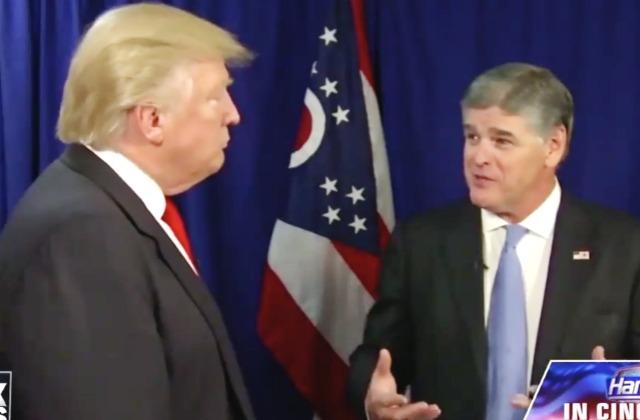 Well, I guess President Donald Trump is very interested in tonight's broadcast of Hannity.
Half an hour before this evening's show, host Sean Hannity tweeted out a reminder that his show would be coming on shortly and hyped up his guest and monologue.
#Hannity Starts in 30 minutes with @newtgingrich and my monologue on the Deep State's allies in the media

— Sean Hannity (@seanhannity) June 17, 2017
And Trump retweeted him.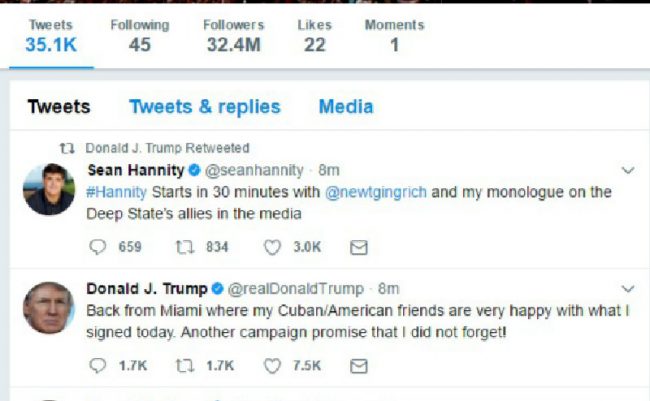 In the wake of reports that Trump is under investigation for obstruction of justice — something Trump confirmed via tweet today — Newt Gingrich has come out and said that he doesn't think it is possible for the president to obstruct justice. (Even though he voted for obstruction of justice when it came time to impeaching Bill Clinton.)
And, of course, Hannity has been perhaps the most pro-Trump host on cable news and is promising to deliver a monologue that will most certainly paint the media as an enemy of the president.
All and all, a perfect recipe for a POTUS retweet.
[image via screengrab]
—
Follow Justin Baragona on Twitter: @justinbaragona
Have a tip we should know? [email protected]