Harry Reid Threw Obama Proposal Into The Fireplace During Fiscal Cliff Negotiations
Reid Threw Obama Proposal Into The Fireplace During Fiscal Cliff Negotiations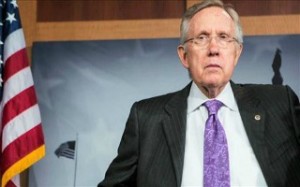 Today's installment of "Just How Bad Were Fiscal Cliff Negotiations?" features one Harry Reid. According to a report in the Washington Post, Reid disliked one proposal so much that he tore it up and tossed it into the fireplace.
RELATED: Fiscal Cliff Fight: John Boehner Reportedly Told Harry Reid 'Go F**k Yourself'
The point of contention, it appears, was Social Security. The Post reports:
There were now less than 36 hours until the deadline. "The clock was ticking and we were not moving."

They weren't moving because Democrats had decided that they had gone as far as they could. Reid and Obama had disagreed privately about what their next offer should be. At one point, Reid was unhappy with an idea that Senate aides said came from Obama — to put the change in Social Security benefits back on the table in exchange for a delay in spending cuts and a rise in the debt limit.

Aides said Reid actually tore up the proposal and threw it into the blazing fire in his ornate green marble fireplace. The paper burned. Reid said he didn't want evidence that the idea had ever been considered.

Administration officials, for their part, deny that Obama ever considered including the Social Security change in the deal.
Even after the deal was done, Reid reportedly expressed concern to President Obama about the situation in two months when the fight over the sequester comes along. Unsure that Obama's refusal to negotiate on the matter would be so easy, Reid, according to the Post, told the president, "We're setting ourselves up."
A deal in D.C. sans seemingly endless disagreement does seem too good to be true.
Have a tip we should know? tips@mediaite.com