Harry Reid Thinks The Mosque Should Be Built Someplace Else (But Totally Respects Religious Freedom)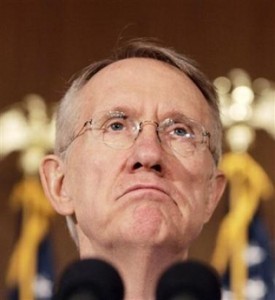 Ladies and gentlemen, boys and girls, children of all ages! Prepare yourself for the ongoing feats of amazing skill and daring at the Act Centrist Before the Midterms Three-Ring Circus! This weekend we got to see President Obama showcase his contortionist talents as he bent his comments this way and that to show that he was not discussing the "wisdom" of building a mosque near Ground Zero but talking about people's rights! That's not all folks, because now we will witness the amazing Harry Reid as he walks the terrifying tightrope, proclaiming his respect of religious freedom but also making sure to not appear too friendly with those darn Muslims! What bravery!
Here he goes, ladies and gentleman, bravely climbing up to the tip top of the circus tent. He checks his footing and begins his walk across the taut wire. The Washington Post has the play by play:
"In a statement issued by his spokesman, Jim Manley, Reid came out against the building of the Islamic center.

'The First Amendment protects freedom of religion,' Manley wrote in an e-mail. 'Senator Reid respects that, but thinks that the mosque should be built someplace else.'

He added: 'If the Republicans are being sincere, they would help us pass this long overdue bill to help the first responders whose health and livelihoods have been devastated because of their bravery on 9/11, rather than continuing to block this much-needed legislation.'"
He did it! He managed to make it all the way across the rope without anyone accusing him of catering to evil Islam boogeymen or taking away the rights of Americans! Is there anything this man can't do? You know, besides staying out of the fray in a ridiculous non-issue?
Have a tip we should know? tips@mediaite.com