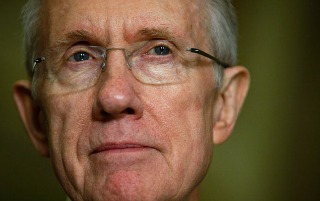 Senate Majority Leader Harry Reid (D-NV) told The Huffington Post that filibuster reform will be at the top of the his agenda in the new term. The impetus for the push, he said, was a fight in Congress that delayed aid for victims of Hurricane Sandy.
"Once we complete that vital legislation, the Senate will take action to make this institution that we all love, the United States Senate, work more effectively," Reid said. "We'll consider changes in the Senate rules."
RELATED: Filibusterbating: Watch Mitch McConnell Filibuster His Own Bill
The senator warned that the changes may not happen immediately. HuffPost's Michael McAuliff notes, "Normally, rule changes are made on the first day of a new session, but Reid has kept that 'first day' alive through the technicality of not adjourning the Senate." Because of this, Reid can use the "constitutional option" to change the Senate rules with a simple majority vote, instead of two-thirds majority.
Reid said he expected the "discussion" on Senate rules to happen "later this month."
"I'm hopeful and cautiously optimistic that the Republican leader and I will reach an agreement that allows the Senate to operate more effectively," he added.
Senate Minority Leader Mitch McConnell (R-KY), however, may disagree. McConnell thought Congress itself may be the problem, not the rules: "The Senate isn't functioning as it should. And it has nothing to do with a process that has served us well for a very long time. But if we work together and strive to avoid some of the bad habits we've developed around here, I believe we'll be able to achieve the solutions that have eluded us for the past four years and develop positive results for the people who sent us here."
h/t HuffPost
Have a tip we should know? tips@mediaite.com