Harvard Distributes 'Holiday Placemat for Social Justice,' Ends Up Apologizing
Harvard apologized this week after people complained about the social justice placemats the College's Office for Equity, Diversity, and Inclusion passed out.
The placemat provides "tips for talking to families" so you can explain 1) why black students aren't "complaining," they're protesting at colleges for safe environments, 2) why the U.S. should take in Syrian refugees, 2) why Harvard changed the house "master" title, and 4) why white people don't get the same treatment as black people do by the police.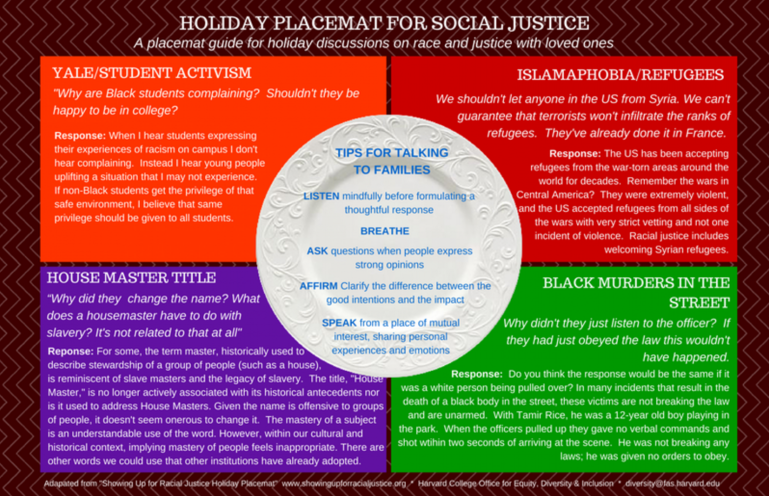 Now, that struck many people as liberal coddling, and a Harvard Crimson column argues that the diversity office should be addressing such issues "in a less shallow and simplistic manner."
It continues:
The handout shamefully parallels a similar tendency among activists to conflate well-meaning people who have the audacity to hold contrary opinions with racists and demagogues. Either you toe the party line, or your justifications don't matter because you are too white, too male, or too privileged in some other way. Opponents of Yale activism are portrayed as racist, and those with concerns about Syrian refugees are painted as Islamophobic.

Even for those of us who agree with the handout on all its issues, this is an area for concern. There must be debate on these issues, at Harvard's tables and in our homes. Presenting unglorified talking points not only wrongly attempts to stifle debate, but also stands in stark contradiction to the mission of the College to transform students "with exposure to new ideas, new ways of understanding, and new ways of knowing."
And apparently the placemats got such blowback that Harvard had to issue a statement apologizing:
We write to acknowledge that the placemat distributed in some of your dining halls this week failed to account for the many viewpoints that exist on our campus on some of the most complex issues we confront as a community and society today. Our goal was to provide a framework for you to engage in conversations with peers and family members as you return home for the winter break, however, it was not effectively presented and it ultimately caused confusion in our community… Academic freedom is central to all that Harvard College stands for. To suggest that there is only one point of view on each of these issues runs counter to our educational goals.
[h/t Campus Reform]
[image via screengrab]
— —
Follow Josh Feldman on Twitter: @feldmaniac
Have a tip we should know? tips@mediaite.com
Josh Feldman - Senior Editor