Here Are Some of the Most Shocking Submissions to MSNBC's 'Election Confessions'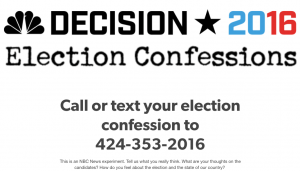 If you've been watching MSNBC lately, you might have noticed a call to submit your "election confessions" to electionconfessions.com. Then again, you might not have, since it is usually just a tiny blip on the scrolling ticker at the bottom of the screen.
Thanks to my job at Mediaite, there are a lot of standard cable-newsisms that have become very routine to me. I can recite every commercial that plays throughout the day word-for-word as they play and usually mouth along to them while I'm working, but if you came up to me on the street and asked me to quote one, or worse, tell you what it advertises, I'd draw a blank. (In related news, please never come up to me on the street.) Similarly, I know I've seen the words "Election Confessions" hundreds of times, but only today did I snap my head up out of the fog of my laptop to squint at the TV and really take in what the scrolling words were telling me.
In a zombie-like trance, I typed www.electionconfessions.com into my browser and boom! Up popped a barebones site powered by Tumblr. The NBC logo stood stoically at the top in black and white. A header in 42-point font told me to "Call or text [my] election confession to 424-353-2016," and below that, I was informed that the confessions were part of "an NBC News experiment."
Here is just a sampling of what I found from other people who went to the site:
(Note that I had to make a throwaway account of my own to embed the posts.)
A lot of them have an anti-Donald Trump leaning.
Still, there are a few pro-Trump "confessions" strewn through the Tumblr.
Some try to be poetic.
Others are funny, if of dubious authenticity.
Go to the site and check it out. There are quite a few to take in. Some are sad, some are simple declarations of voting intentions, and some are clearly from an older generation of people who are still figuring out how to submit anonymous confessions to a blog.
All in all, worth the click. Whatever "experiment" NBC is going for, it's already turning out to be interesting, just like this election season.
[image via screengrab]
For more from Lindsey, please do not go to the Tumblr account she had to make for this. Please go to her Twitter or Facebook.
This is an opinion piece. The views expressed in this article are those of just the author.