Twitter blew up yesterday over a pretty controversial image Donald Trump posted of Hillary Clinton with a Star of David calling her corrupt––and with said star in front of a background of money. Here's the image in question: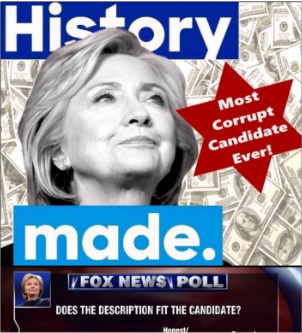 Now, Trump's supporters have still been going over the top to defend The Donald. How, you ask? By (and I'm not kidding here) saying that sheriffs around the country have six-point star badges, ergo it's all cool.
Well, now we know where the image came from.
It apparently started on Twitter by user @FishBoneHead1, who––when the controversy broke out yesterday––wanted to be clear they were responsible: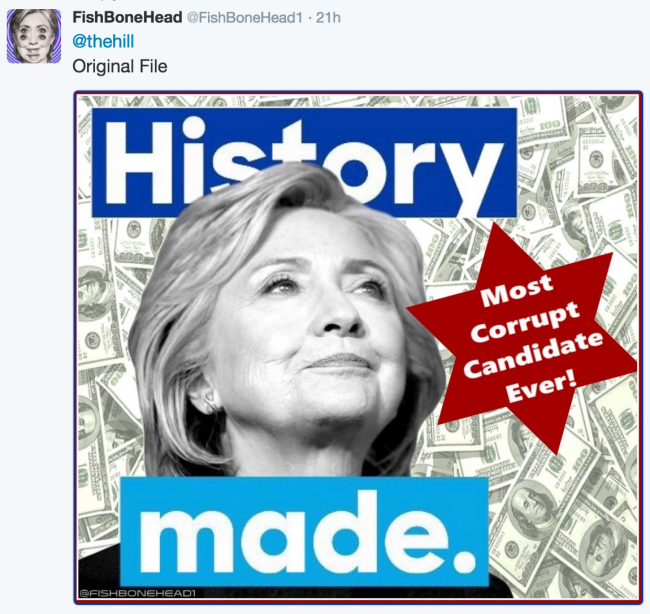 Mic was first to report today that the image made its way to the 8chan message board /pol/. (To give you some idea of what you're in for, as of this posting there is a post on /pol/ with a picture of Elie Wiesel with the caption "DING DONG THE KIKE IS DEAD." So yeah, it's that kind of message board.)
Mic was able to track down the original message thread where the image came from: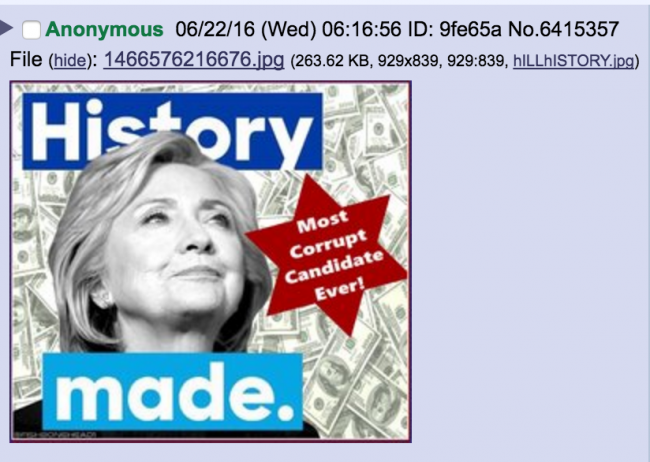 Now, you may notice the two lowercase h's in "hILLhISTORY." Well, hh (or 88, the numerical equivalent) is generally considered online Neo Nazi code for "Heil Hitler."
And if you go through that thread (which is not recommended for the faint of heart), and you search for instance of the words "Jew" and "kike," you'll see some things that will make you lose faith in the human race.
[image via screengrab]
— —
Follow Josh Feldman on Twitter: @feldmaniac
This is an opinion piece. The views expressed in this article are those of just the author.
Josh Feldman - Senior Editor