"In politics if you have a problem or challenge, hang a lantern on it." That bit of axiomatic wisdom via the late House Speaker Tip O'Neill has retained its value over the decades. Former Secretary of State Hillary Clinton has a Benghazi problem. She's hanging a lantern on it.
Outside the political salons, a majority of Americans do not believe they have been told the whole story as it relates to the Benghazi attacks. According to a recent Washington Post/ABC News poll, 51 percent of all adults support the congressional select committee empanelled to investigate both the attack and the administration's response to it. Only 42 percent of respondents said they believe the attacks have been "investigated enough."
Clinton's allies reportedly had a hand in pressuring congressional Democrats into participating in that committee and lending it legitimacy. That was a smart move. That same poll shows that only 37 percent of adults approve of the way Clinton handled the attack in which an American ambassador was assassinated. A full 50 percent of adults disapprove — a figure which includes 58 percent of self-described independents. If this committee can answer the outstanding questions relating to the attack and the administration's response to it, more the better for Clinton.
RELATED: Bill Clinton Mocks Rove's 'Walking Dead' Hillary Diagnosis, Talks Benghazi
That is just one part of a multi-pronged Clinton strategy to reclaim the narrative surrounding those attacks. Another prong in that pincer movement emerged this morning. Debuting on Twitter on Thursday, the back cover art for Clinton's new book, Hard Choices, raised eyebrows when some noticed that one of the moments featured is the September 14, 2012, memorial for the four Americans who died in that attack.
EXCLUSIVE: Glimpse photos from back cover of @HillaryClinton's #HARDCHOICES @barackobama http://t.co/CoVNNGWird pic.twitter.com/K532IH6WX4

— HillaryBook (@HillaryBook) June 5, 2014
The Weekly Standard has a few enhanced versions of the image featuring Clinton and President Barack Obama delivering remarks on that attack.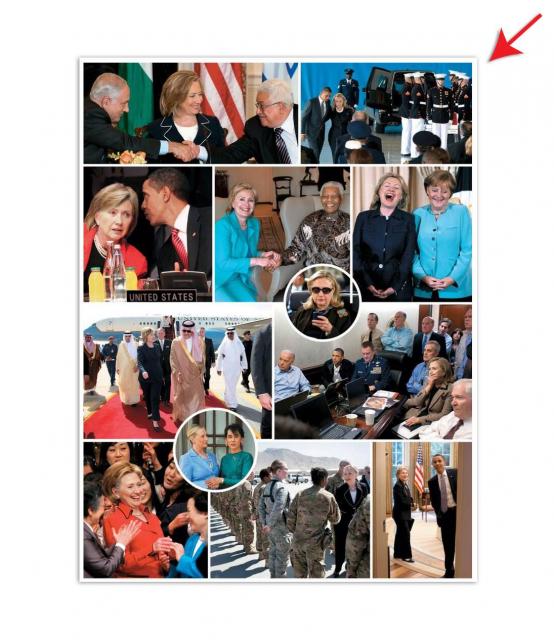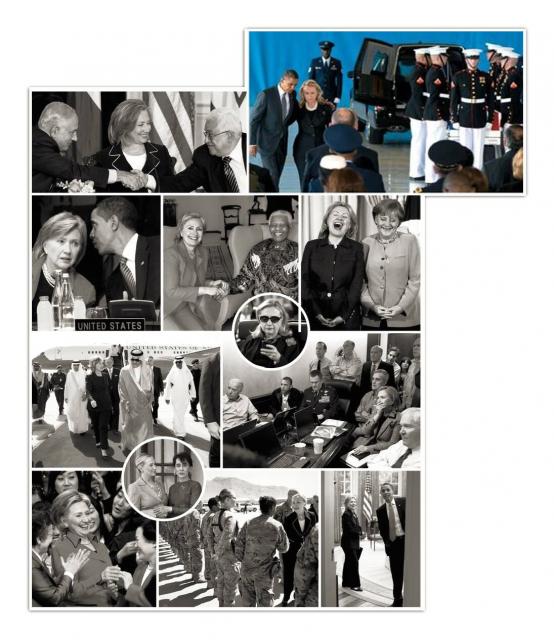 "This has been a difficult week for the State Department and for our country," Clinton said at that memorial. "We've seen rage and violence directed at American embassies over an awful Internet video that we had nothing do to with."
That statement will haunt Clinton's prospective 2016 bid. It is a testament to her political acumen and that those around her that she is trying to regain control of the narrative surrounding the Benghazi attack. It remains to be seen if this strategy will work.
[h/t The Weekly Standard ]
[Image via Jason Reed/Reuters]
— —
>> Follow Noah Rothman (@NoahCRothman) on Twitter
Have a tip we should know? tips@mediaite.com