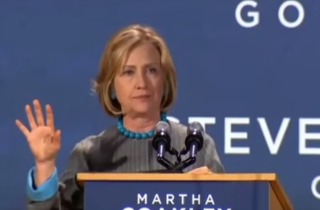 How much plane did Hillary Clinton do during the 2008 campaign? According to documents from her campaign, she spent roughly $19.2 million on private, chartered flights around the country — more than nine times the amount her next competitor, noted rich person Mitt Romney, spent on private flights.
The National Review, which unearthed the documents, pointed out that the wild discrepancy between the two numbers was partially due to the length of their respective primary campaigns — Romney dropped out four months before Clinton did — but even then, Hillary still managed to spend $6.7 million on flights during that time, while Romney spent $2.2 million. (Presidential nominees end up paying way more than that for flights, but that's because they "receive huge flows of cash upon securing the nomination and have to pay travel costs for a running mate, surrogates, and staff.")
During her eight years as a senator, Clinton took 200 private chartered flights for a grand total of $225,756, though that is completely understandable because the state of New York is friggin' huge and that's really the only way to get around without losing one's mind in a car for six hours. But in the years after leaving her position as Secretary of State, Hillary apparently still likes planes, as a recent expose into a speaking appearance at the University of Nevada, Las Vegas revealed:
According to this second report, the contract stipulated that Clinton and her entire entourage would be flown into Las Vegas in style — "only a $39 million, 16-passenger Gulfstream G450 or larger will do" — and that Clinton would be put up in a presidential suite.
So yeah, it was a lot of plane.
[NRO]
[Image via screenshot]
—
>> Follow Tina Nguyen (@Tina_Nguyen) on Twitter
Have a tip we should know? tips@mediaite.com