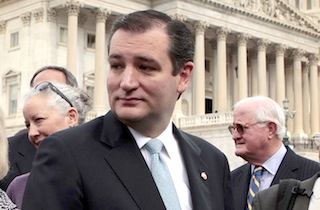 Texas Senator Ted Cruz incurred the wrath of a good number of Republican legislative aides on Thursday when he kicked the defunding-Obamacare ball right back into the House GOP's court.
Cruz has been pushing the defund Obamacare movement for months, but after House Speaker John Boehner decided his caucus would go along with his plan and pass a budget without Obamacare funding, Cruz suddenly balked, admitting he didn't have the votes to pass the bill in the Senate. In a statement written along with fellow would-be defunders Marco Rubio and Mike Lee, he wrote:
Harry Reid will no doubt try to strip the defund language from the continuing resolution, and right now he likely has the votes to do so.

At that point, House Republicans must stand firm, hold their ground, and continue to listen to the American people. President Obama has already granted Obamacare exemptions to big corporations and Members of Congress; he should not threaten to shut down the government just to deny those same exemptions to hard-working American families.
Here's what some anonymous GOP aides had to say about that, the first two via CNN, the next three via HuffPo:
"They said nothing is impossible if you fight hard enough, and the minute the House announces the vote, they give up the fight? It's crazy. They should walk the walk."

"It is disappointing to see that Wendy Davis has more balls than Ted Cruz."

"Cruz officially jumped the shark this week. He's doing for the House Leaders what they couldn't do for themselves. House rank-and-file members are uniting with Boehner, Cantor over Ted Cruz's idiotic position."

"We can only defund Obamacare if it passes the Senate. If there is no plan to get the defunding provision passed in the Senate, or even a plan to fight to get it passed in the Senate, then what we're talking about isn't a plan to defund Obamacare—it's just a plan to shut down the government and hope for the best. That's not a great plan."

"Cruz is the leader of a secret cabal of leftists that are seeking control of the conservative movement. Their aim is to force the party to take on suicidal missions to destroy the movement from within." (This one appears to be tongue in cheek.)
Cruz, for his part, had a pithy rebuttal to the criticism:

[Image via screengrab]
——
>> Follow Evan McMurry (@evanmcmurry) on Twitter
Have a tip we should know? tips@mediaite.com