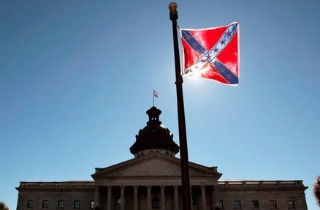 On the same day the South Carolina legislature voted to remove the Confederate flag from the statehouse grounds, Republican members of the House of Representatives in Washington D.C. considered an amendment loosening restrictions on the flag on specified federal lands.
House Democrats had earlier approved three measures restricting the use of government funds for flying the Confederate lag in federal cemeteries and selling of the flag in National Park gift shops.

But Wednesday night Representative Ken Calvert (R-CA) attached an amendment to a $30 billion Interior-Environment spending bill, already opposed by Democrats due to its affect on environmental regulations, rolling back some those flag restrictions.
RELATED: GOP Rep. Gives Emotional Appeal to Remove Confederate Flag: 'Enough About Heritage'
Democratic leaders excoriated the late-night move as "stealthy."
"After the murder of nine black parishioners, I never thought that the U.S. House of Representatives would join those who would want to see this flag flown by passing an amendment to ensure" the flying of the flag, Representative Betty McCollum (D-MN) responded.
On Thursday, House Republicans withdrew the amendment, conceding they didn't have the votes to pass it.
In a statement Thursday, Calvert claimed the GOP leadership had asked him to introduce the amendment. "The amendment offered last night to the Interior and Environment Appropriations bill was brought to me by Leadership at the request of some southern Members of the Republican Caucus," he said.
Calvert said that his amendement would have simply "codified existing National Park Service policy set by the Obama administration," to make sure the flag could still be displayed in a "historical and educational context."

"The intent of the Leadership's amendment was to clear up any confusion and maintain the Obama administration's policies with respect to those historical and educational exceptions," he said.

Calvert concluded by saying "I regret not conferring with my colleagues on the other side of the aisle."
This marks the first action taken by the U.S. Congress over the Confederate flag, which has been the discussion of South Carolina and Mississippi legislatures since the assassination of nine African-American churchgoers by a white supremacist who made the flag his emblem. South Carolina Governor Nikki Haley (R) is expected to sign the bill removing the flag from courthouse grounds later today.
[h/t Roll Call / National Journal]
[Image via screengrab]
——
>> Follow Evan McMurry (@evanmcmurry) on Twitter
Have a tip we should know? tips@mediaite.com