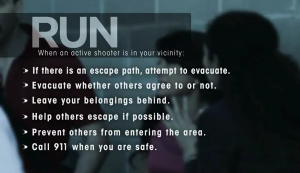 City officials in Houston decided several months ago to produce and release a video advising people what to do when they find themselves in the midst of a shooter. The video was released less than a week after last month's shooting in Aurora, Colorado, and has been watched over 400,000 times in the last month. The video has been getting more and more attention, as well as some criticism for glossing over the use of firearms as a method of self-defense.
The video, titled "RUN. HIDE. FIGHT.", depicts a shooter entering a large building and opening fire on people in the immediate area, and then goes through a list of steps people can take to get to safety if there is a shooter in their midst. However, the video has gotten some criticism for not suggesting that an individual can use a firearm of their own for self-defense.
Danny Davis, a director of the homeland-security graduate program at Texas A&M University in College Station, said he thinks Houston officials were remiss for sidestepping the issue. "Had one person, male or female, had a weapon in that theater, maybe so many people would not have died," he said.

But Houston officials said they decided not to include a segment advising people who might be armed to use their guns because the video is meant to address the widest possible audience; they said fewer than 3% of Texans have a permit to carry a concealed weapon.
A spokesman for the Los Angeles Police Departmen, however, agreed with the decision not to include it, saying that the majority of people "don't carry concealed weapons" and would have been a "political issue" that the video was not intended to address.
Watch the video below:
Have a tip we should know? tips@mediaite.com
Josh Feldman - Senior Editor