How a Paper Published by Ailes' Wife Covers Him Canceling $500,000 Donation to Senior Center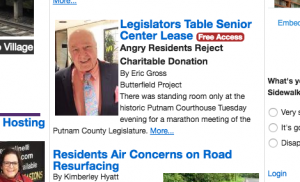 If you visit the website of the Putnam County News & Recorder, you'll see a photo of a beaming Roger Ailes. It's a little different than the paparazzi photos that have come out of the embattled former Fox News CEO, but consider that the News & Recorder  is published by his wife, Elizabeth Ailes, who has lived in the New York county along with her husband and son. (Here is her full profile on the site.)
By clicking on that happy-looking picture, you'll find an article titled, "Legislators Table Senior Center Lease: Angry Residents Reject Charitable Donation." The picture they used doesn't really match the tone of the citizens represented in the article, but hey, the content is still solid, so let's dive in.
Apparently, last night was a big night for the Putnam County Legislature, which met at the county courthouse and discussed what to do about the Ailes' family's donation to a forthcoming senior center via their nonprofit, API. Legislation was being voted on that would have accepted the half million dollars and put Ailes in charge of the $1.5 million public project of building a senior center for western Putnam County. Here's how Eric Gross put it for the PCNR:
ACI is the nonprofit set up by Elizabeth and Roger Ailes of Garrison. The family intended to donate $500,000, in the form of the finished renovations to the county, to bring a new senior center to pass in Philipstown after years of delay … Tuesday evening, the campaign came to Putnam County, as some 100 people attacked Ailes, the county, [Paul Guillaro] and Legislator Barbara Scuccimarra of Philipstown. At end, it was clear that some are willing to start over on the senior center and reject the donation entirely.
The ellipses in that block quote are in place to represent the three paragraphs that Gross dedicated to explaining that Ailes is no longer the CEO of Fox News ever since Gretchen Carlson accused him of sexual harassment. One of the paragraphs featured quotes from Ailes' lawyers about respecting the rule of law and not rushing to judgment regarding a man who has not yet seen a trial, but Gross did not mention the numerous other women, reportedly including FNC star Megyn Kelly, who have accused his publisher's husband of harassment in the weeks since Carlson filed suit.
Gross described Ailes as being under "vicious attack" and coming "under hostile fire" in the media and during the legislative meeting.
Ultimately, the vote to table was unanimous and the nonprofit withdrew its donation. While some were angered that senior citizens would be affected by a decision that will probably impede the production of the center, many in the overflow crowd appeared happy to see the Ailes family separated from the project. The crowd was made up, in part, of members of a petition campaign by Putnam County Taxpayers for Transparency and Integrity. Their leader, Kathleen Foley, described the former CEO as "a bully and morally bankrupt sexual predator" who shouldn't be associated with the senior center.
Local politics can be gritty, fascinating, and entertaining. Add in a dash of national scandal and the proceedings are often better than any television show. Read Gross' whole report here, but don't forget whom he cuts his cake with.
#Putnam Cty Exec Odell, Eric Gross, Publisher Elizabeth Ailes & Historian Sarah Johnson laud 150 yrs of the PCNR! pic.twitter.com/JW19i6ytSq

— The PCNR (@ThePCNR) June 13, 2016
[image via screengrab]
Have a tip we should know? tips@mediaite.com