'How is This Not a Partisan Issue?': CNN Host Grills Dem Rep For Asking Electoral College to Block Trump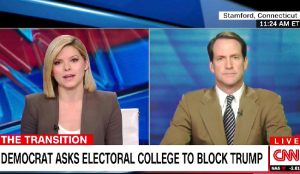 During an appearance on CNN this morning, Rep. Jim Himes (D-CT) was pressed by host Kate Bolduan to justify his recent plea to the Electoral College to shun President-elect Donald Trump.
Himes took to Twitter on Sunday to beg electors not to vote for Trump on the 19th when they convene. He told New Day yesterday that the tipping point for him regarding Trump was his criticism of the intelligence community over its assessments on Russian hacking.
Speaking to Bolduan, Himes said he felt he wasn't asking the Electoral College to "overturn the will of the people," invoking Alexander Hamilton and stating that this "is not a partisan thing." He also pointed out all of the issues he has with Trump taking office, such as conflicts of interest with Trump's businesses.
Bolduan noted that there is not a "high probability of success." As Himes said Trump is "temperamentally unsuited to be president," the CNN host pointed out that this was Hillary Clinton's argument and wanted to know how he wan't being partisan.
"You call him temperamentally unsuited to be president," Bolduan said. "That was the line of the campaign for Hillary Clinton. That was decided on November 8th. Elections have consequences. How is this not a partisan issue?"
Himes went on to state that the Electoral College decides the election and he is uncomfortable with the fact that the incoming POTUS was defeated in the popular vote, with Bolduan pressing him again to give a probability of success of this happening.
Watch the exchange above, via CNN.
[image via screengrab]
–
Follow Justin Baragona on Twitter: @justinbaragona
Have a tip we should know? tips@mediaite.com