'How Long Does a Person Pay for Their Mistake?' Paula Broadwell Opens Up on Petraeus Affair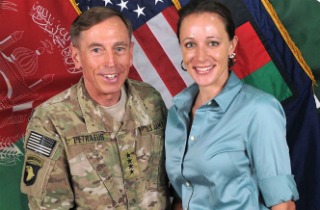 Journalist Paula Broadwell sat for an extensive profile over the weekend in which she described a double-standard she's observed after years of fallout from her infamous affair with David Petraeus.
Broadwell worked as the former CIA director's biographer back in 2012, and they came under major public scrutiny when it was revealed that they engaged in an extramarital affair. Petraeus was sacked over the scandal, but even though his career has bounced back to some degree, Broadwell told The New York Times that the controversy is still taking a toll on her.
"I'm the first to admit I screwed up," Broadwell said. "Really badly, I know that, but how long does a person pay for their mistake?"
Broadwell went on to talk about how the scandal cost her her military security clearance, her Ph. D program, her contacts with Republican higher-ups, and multiple journalistic opportunities. Broadwell said she's been able to do work for advocacy groups, but that she still deals with the aftermath where friends and fellow journalists will say she is 'too controversial to even touch.'
There was a bright side to the profile though. Broadwell said that her marriage was able to recover, and she talked about how she founded Think Broader, a non-profit focused on fighting gender bias in news reporting. One of the successes Broadwell spoke about was getting multiple outlets to adopt more gender-neutral language in the hope that it would help others avoid being unfairly vilified the way she says she was.
"Some days I think, if I could just move on and it was never again in the news, I probably would, but I can't," Broadwell said. "On the one hand, I don't want to define myself by this. But on the other hand, I've been defined by this. So if I can change things for the better because of it, then why not?"
[Image via wikimedia]
— —
>> Follow Ken Meyer (@KenMeyer91) on Twitter
Have a tip we should know? tips@mediaite.com