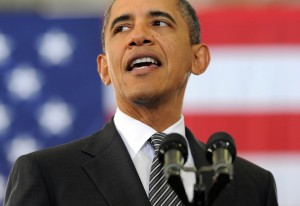 This morning ABC News brought up a pretty stark contrast between how President Obama ran his 2008 campaign and how he is running his 2012 campaign. Whereas several Obama campaign ads this time around have been incredibly negative attacks on Mitt Romney (including some that were rated as false or misleading), it was only four years ago that the president was decrying negative ads being run by John McCain as a "disservice" to political discourse. But does this mean that the president has done a complete 180 on negative ads?
RELATED: RNC's Reince Priebus Tears Into Obama: 'Most Divisive, Nasty, Negative Campaigner' In U.S. History
At a rally in April 2008, Obama pledged to "run a different kind of campaign" that would not try to fill the airwaves with negative ads. But don't let that make you think Obama started with the negative ads when he decided to run for reelection. Recall, if you will, an ad released by the Obama '08 campaign in the last months of the race, in which they take a cheap shot at McCain's computer illiteracy. Now, comparatively speaking, it's not nearly as negative as suggesting your presidential opponent would have hedged on taking out the leader of al-Qaeda, but it's still pretty negative.
In fact, it has been suggested that the 2008 campaign was more negative than we realized. Earlier this year, Joe Scarborough accused Obama '08 of running "more negative ads than anybody else in the history of television." Senator Marco Rubio made this assertion as well, and Politifact rated his claim as Mostly True. Why the qualifier?
In sheer numbers, that statement is correct: Obama bought many more ads than McCain did, both positive and negative. Nevertheless, two studies suggest that, overall, Obama's ads were not significantly more negative than his rival. He ran the most negative ads because he ran the most ads.
In the third and final debate of the 2008 campaign, McCain called Obama out on this very issue, which Obama rebutted by citing a poll showing that significantly more people believed McCain was running a negative campaign than Obama was. In the exchange, Obama never denied his campaign was running negative ads, but kept insisting McCain was worse on that front.
This race is expected to get unbelievably negative, no matter what. Obama is going to go after Romney on transparency (as of today, not releasing his full tax returns for the past several years), and Romney is going to hammer the president over what he will argue have been failed economic policies. Now, an ad being negative is not nearly as important as whether the information within is, well, accurate. But when politicians like Obama, who is no better or worse than anyone else on this, stand up and decry negative campaigning whilst simultaneously running negative ads, it already distracts from the truth.
The truth about negative ads is a fairly obvious one: it's okay when you do it, not so much when it's done to you. Obama hasn't flip-flopped on negative campaigning since 2008. It's just that like everyone else, he has a very subjective definition of what constitutes negative campaigning. And as this race goes on, no doubt we will get to see just what else that definition includes.
Have a tip we should know? tips@mediaite.com
Josh Feldman - Senior Editor