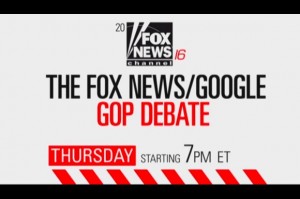 It all comes down to tonight in Des Moines, Iowa as the Republican candidates for President square off one final time before Monday's Iowa Caucus. The Fox News Republican debate will be cosponsored by Google. As has been the case for all of the prior GOP debate events, the night will be split into two separate portions: an undercard and a mainstage event. The undercard debate will begin at 7:00 p.m. ET and will be moderated by America's Newsroom co-anchors Martha MacCallum and Bill Hemmer. The main event begins at 9 p.m. ET, moderated by Bret Baier, Megyn Kelly and Chris Wallace.
A special post-debate edition of The Kelly File will begin immediately following the debate at 11 p.m. with Charles Krauthammer and Frank Luntz, who will present live reaction from an Iowa focus group. At midnight, Hannity will feature live interviews and reactions from the candidates as well.
The candidates that have qualified for the undercard portion are:
Carly Fiorina
Mike Huckabee
Rick Santorum
Jim Gilmore
Former Arkansas Governor Mike Huckabee won the Iowa Caucus in 2008, and former Pennsylvania Senator Rick Santorum won the Caucus in 2012.
The candidates that have qualified for the mainstage debate at 9 p.m. are:
Donald Trump*
Ted Cruz
Marco Rubio
Ben Carson
Jeb Bush
Chris Christie
John Kasich
Rand Paul
*Donald Trump has announced that he will not be participating in the debate.
The events for the night will be broadcast on Fox News, as well as a free non-subscription livestream available at www.foxnews.com. You can also listen on Fox News Radio and on SiriusXM channel 114; local listings for Fox News Radio can be verified here.
Viewers can also watch the debate on iPhone, iPad or Android devices via Fox News Go, or through the Fox News app, which is available via iTunes and Google Play. The official social media conversation will take place using the hashtag #GOPDebate.
Check back with Mediaite's coverage throughout tonight's events!
Have a tip we should know? tips@mediaite.com