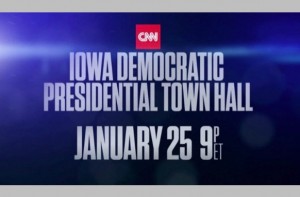 With only one week to go before the Iowa caucuses, the three remaining Democratic candidates for President will take the stage on CNN Monday night for a Town Hall event moderated by New Day anchor Chris Cuomo. Former Maryland Governor Martin O'Malley, Vermont Senator Bernie Sanders, and former Secretary of State Hillary Clinton will all be participating in the event, which will be broadcast live from Drake University in Des Moines, Iowa.
The event will begin at 9 p.m. ET and go until 11 p.m. ET on CNN and is just the latest campaign trail event that the network has landed. In the 2016 campaign already, CNN has hosted two Republican debates as well as a Democratic debate. The Town Hall format, however, is not formally a "debate", meaning that the three candidates will be speaking with Cuomo one-on-one. At no time will the three be on stage at the same time.
The Town Hall will also be live-streamed online and across mobile devices via CNNgo. CNN International and CNN en Espanol will also simulcast the Town Hall.
A special post-Town Hall edition of CNN Tonight with Don Lemon will air immediately following the event at 11 p.m.
Who will make the strongest pitch? CNN's live Iowa #DemTownHall airs tonight 9p ET https://t.co/5PAE3pt6nj pic.twitter.com/EsYTKOL0Ci

— CNN (@CNN) January 25, 2016
Dr. Andy McGuire, chair of the Iowa Democratic Party, told CNN, "With this event airing just one week before the first-in-the-nation Iowa caucuses, it's an incredible opportunity for Iowans to see our candidates detail their plans to move our country forward and their vision for Iowa and the nation."
Have a tip we should know? tips@mediaite.com