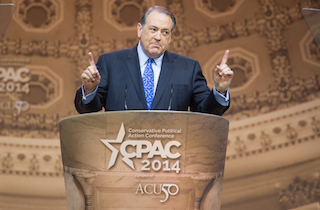 Republican 2016 hopeful Mike Huckabee rebuffed scrutiny Wednesday over a sneering comment he made in February about the transgender community, arguing that the political press core was the only group outraged over it.
"What people talk to me about is not some speech I made four months ago and it's not some cultural issue," Huckabee said at a press conference. "People talk to me about the loss of their job. They talk to me about the threats to this country. And that's what I'm focused on, and it's why I'm running for president."
"I'll let people read into whatever they want to," he said. "Nobody ever asks me about it except from the media — the only people who seem to be stirred up about it."
RELATED: Pataki on Huckabee's Trans Comments: We Should Show Respect Instead of Mockery
Huckabee made the initial comments during his closing remarks at February's 2015 National Religious Broadcasters Convention in Nashville. World Net Daily uploaded video of the speech to YouTube, where it was found by BuzzFeed, ill timing for Huckabee in light of Caitlyn Jenner's transformation revealed last weekend.
In his speech, Huckabee said he sure would have loved if he could have claimed to be female in high school to get into the girls' shower, in reference to proposed city ordinances allowing transgender individuals to use restrooms of their gender identification (and/or ordinances criminalizing that).
Watch the initial comments below:
[h/t CNN]
[Image via Christopher Halloran / Shutterstock.com]
——
>> Follow Evan McMurry (@evanmcmurry) on Twitter
Have a tip we should know? tips@mediaite.com