If Health Care Was Porn For The Media, Where Will They Get Their Kicks Next?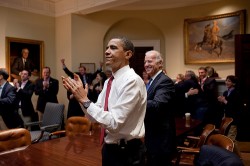 Does it seem weirdly quiet in the news world today? It's not just your imagination. The media may be having a collective panic attack over how they will manage to occupy their time now that the health care debate has been settled. And make no mistake, as a national "nuclear" storyline this one is likely done. As former Bush speechwriter David Frum noted in his much passed-around piece today: this "Waterloo" is the result of the GOP not managing to cooperate on any level with the Dems. Meaning, if that's the storyline that sinks in, the GOP may not spend a great deal of time focusing on their failure to present a workable alternative.
So what's next? Because there will be a next. Over the weekend analyst Amy Holmes told Howie Kurtz (video below) that she sees the health care story "as political porn."
And people love all of these details, lifting up the skirt of Congress and seeing what's really going on. Honestly. And it reminds me actually of the recount in 2000. It reminds me of the Democratic primary race, where we basically were getting a civics lesson.
Just the other day, while making a last ditch speech at George Mason, President Obama compared political journalism, particularly the sort found on cable news, to SportsCenter (novel idea).
What they like to talk about is the politics of the vote. What does this mean in November? What does it mean to the poll numbers? Is this more of an advantage for Democrats or Republicans? What's it going to mean for Obama? Will his presidency be crippled, or will he be the comeback kid? (Applause.) That's what they like to talk about. That's what they like to talk about. I understand. One of the things you realize is basically that a lot of reporting in Washington, it's just like SportsCenter. It's considered a sport, and who's up and who's down, and everybody's keeping score. And you got the teams going at it. It's Rock 'Em Sock 'Em Robots.
That's called the President hitting the nail on the head. Without question Obama is currently the comeback kid. But what's next, because this is not going to last very long? The Times today did a story about how Obama's big failure thus far has been his inability to unite Washington, something possible 2012 candidate Mitt Romney immediately picked up on (also, John McCain, in his own weird way). But I'm not convinced this extra strident partisanship isn't in part the result of a media cycle that demands a scorecard. The cable/blogosphere beast must be fed.
I suspect, in light of yesterday's mostly overlooked marches in DC, immigration may be next up. Or maybe it will merely be partisanship. That said, Obama has now marked himself the president who can accomplish anything, so maybe all this recent Israel back-and-forth will mean he'll make a foreign policy switch and solve the Mid-East. Whatever it is it better be big, because if it's not the media world will make it so. Or, hey, maybe it's just more health care. Reliable Sources clip below.
Have a tip we should know? [email protected]