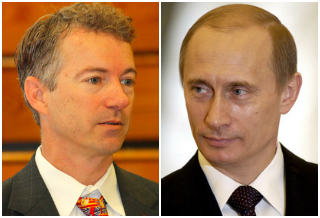 In an op-ed that is definitively not "exclusive" to Breitbart.com, Sen. Rand Paul (R-KY) lays out exactly what he would do about the crisis in Ukraine if he were president today. The article, which appears on Time.com, concludes with an implicit criticism of President Barack Obama: "If I were President, I wouldn't let Vladimir Putin get away with it."
Overall it seems Paul's stance does not deviate much, if at all, from that of the Obama administration, which has condemned Russia's actions, worked to impose additional sanctions and favored diplomatic efforts over military intervention.
Paul calls Vladimir Putin's Ukraine invasion "completely unacceptable," adding that "Russia's President should be isolated for his actions." He says "it is America's duty to condemn these actions in no uncertain terms." And while he declares "Putin must be punished" for his actions, he explains, "this does not and should not require military action."
But while Paul does not condemn the Obama administration's response, he does believe it lacks the "leadership" to produce a successful outcome. The primary actions he believes the U.S. should take that are not already in the works concern the flow of oil and gas from America to Europe as well as the "immediate construction of the Keystone Pipeline."
After laying out further beliefs about how America's debt weakens our image across the world, Paul ends his piece by identifying "the real problem": That "Russia's President is not currently fearful or threatened in any way by America's President, despite his country's blatant aggression."
"But let me be clear: If I were President, I wouldn't let Vladimir Putin get away with it," he concludes, implying that a President Rand Paul would "threaten" Putin more than President Obama.
[photos via Wikimedia Commons]
— —
>> Follow Matt Wilstein (@TheMattWilstein) on Twitter
Have a tip we should know? tips@mediaite.com