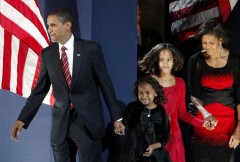 So yes. As the saying goes, what a difference a year makes. Twelve months after the momentous election of Barack Obama as the nation's 44th president, a poll shows that were the election to be held today Obama might not be so successful.
The Rasmussen poll finds that "45% of adults say they would be at least somewhat likely to vote for Obama if he was up for reelection right now. Forty-nine percent (49%) say they would be unlikely to vote for the president's reelection." Ouch. Side note: more women like him than men.
Of course, it should go without saying that a poll like this is held in a vacuum, which does not include real world contributing factors like opposing candidates or running mates. Not to mention the next chance voters will get to check the President's name off on a ballot is still three years off — needless to say, a lot can change in three years! — but still, probably not exactly the way Obama wanted to arrive at election day 2009!
For her part, Arianna Huffington, whose coverage of Obama during the campaign was generally, shall we say, positive, also appears to have decamped into the less-than-thrilled party. Huffington has penned a new post titled 'The Audacity of Winning vs. The Timidity of Governing.' From the post:
How did the candidate who got into the race because he'd decided that "the core leadership had turned rotten" and that "the people were getting hosed" become the president who has decided that the American people can only have as much change as Olympia Snowe will allow?

How did the candidate who told a stadium of supporters in Denver that "the greatest risk we can take is to try the same old politics with the same old players and expect a different result" become the president who has surrounded himself with the same old players trying the same old politics, expecting a different result?
The audacity of reality? No doubt the difference the next 36 months can make will help people make up their minds on that one.
Have a tip we should know? tips@mediaite.com