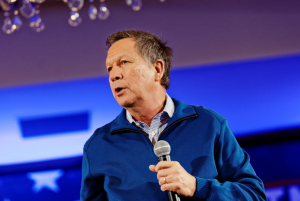 With only 153 paltry delegates to his name, Ohio Governor John Kasich is not exactly in the driver's seat for the 2016 Republican party nomination race. After all, he falls well short of Texas Senator Ted Cruz's 565 delegates, and towering over the pack like a skyscraper with his own name on it is Donald Trump with 996 according to the AP as of today.
And tomorrow in Indiana, voters will head to the polls once again to likely declare that is it Trump who they most want representing the GOP in the general election.
Kasich has faced calls far and wide for him to suspend his campaign. He was mathematically eliminated from outright winning the nomination long ago, and he still technically trails in the delegate count to Florida Senator Marco Rubio who dropped out March 15th. Any way you slice it, it is a foregone conclusion that Kasich will not be the party's nominee.
His last stand is this one graphic, which he tweeted out to his followers Monday morning:
17 polls in a row.#ChooseVictory pic.twitter.com/4iU9Fyiy9p

— John Kasich (@JohnKasich) May 2, 2016
Real Clear Politics has predicted in seventeen consecutive polls that it is Kasich — not Trump, and not Cruz — who can best the likely Democratic party nominee Hillary Clinton in November. A closer look at the polling data shows the discrepancy more clearly, but also reveals that despite Trump's populist surge nationally, he is widely expected to lose to Clinton in a head-to-head matchup.
According to Real Clear Politics, Ted Cruz also loses to Clinton in the general, although as of today that margin is considerably smaller than it has been in the past. Clinton would bring in an estimated 46.5% of the vote, while Cruz would likely hit 43.2%.
The only hope that the John Kasich campaign has of surviving the Cleveland convention is to wildly convince the Republican base that going against the will of the voters is a good idea given these general election expectations. Heading into tomorrow's Indiana primary, Kasich has a total of only 3,672,832 popular/raw votes; Trump's share surpassed ten million last week (to put this into better perspective, Marco Rubio has 3.5 million votes to his name). It's a tough sell to convince conservatives to cast aside the democratic process in favor of predictive polls that can always be wrong; but if you're John Kasich, it's truly the last leg you have to stand on, and a reminder that the seemingly moderate and pragmatic approach of the Ohio Governor might be the only winning ticket to defeat the Clinton power machine in November.
But, for those keeping score at home, Kasich winning the Presidency is not guaranteed if he does miraculously get the nomination; there is, after all, a socialist from Vermont still technically in play. While polls may indicate that Clinton falls short to Kasich in the general, even RCP shows that Bernie Sanders wins against the Ohio Governor easily, in addition to more-than-likely wins over Trump and Cruz as well.
—
J.D. Durkin (@jiveDurkey) is a columnist at Mediaite
[image via Flickr]
This is an opinion piece. The views expressed in this article are those of just the author.