I'll Have What She's Having: GOP Rep. Jean Schmidt's Epic Reaction To Fake SCOTUS News
GOP Rep. Jean Schmidt's Epic Reaction To Fake SCOTUS News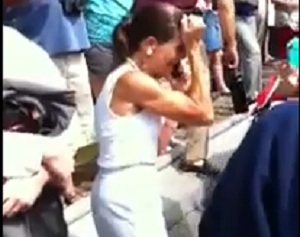 As the political media world continues to sort through the repercussions of Thursday's Supreme Court ruling on President Obama's Affordable Care Act, Fox News and CNN have to contend with their own special brand of blowback for jumping the gun and announcing the Court had struck down the individual mandate portion of the law. That monumental mistake has no more tragic or comical consequences than the reaction of Rep. Jean Schmidt (R-OH), preserved forever on YouTube.
The folks at CNN and Fox News should feel downright awful for sending Rep. Schmidt on an emotional rollercoaster ride that CrooksAndLiars.com's Diane Sweet described this way:
CrooksandLiars came across this cell phone video footage, posted to Youtube, of Schmidt standing outside the court as news of the ruling was apparently being passed to her via cell phone. Her reaction reminded me of a famous restaurant scene with Meg Ryan in comedy "When Harry Met Sally."

"Yes! Yes!!! And what else?! Thank God!" Schmidt shouts into her cell phone, under the belief that the Supreme Court had struck down the law. Schmidt's phone source was apparently tuned in to either Fox News or CNN, as the two networks led initial confusion over the ruling by reporting that the high court had struck down Barack Obama's Affordable Care Act.
No matter where you stand on the issue, you have to feel a little bit bad for Rep. Schmidt, even if her elation was in response to her belief that the Supreme Court had just struck down a law that expands health care to tens of millions of Americans who would otherwise not have it, and which prevents insurance companies from denying coverage to those with preexisting conditions, and which extends to millions of Americans the "privilege," of not waiting until their health deteriorates to the point that they're seeking expensive, less effective care in emergency rooms, that Schmidt enjoys at our expense. Come to think of it, maybe Fox and CNN don't have anything to feel bad about.
Here's a slightly longer version of the video that CrooksAndLiars found:
Follow Tommy Christopher (@TommyXtopher) on Twitter.
Have a tip we should know? tips@mediaite.com