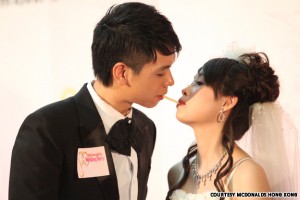 Today in ridiculous news: CNN's Tiffany Lam is reporting that a Hong Kong McDonald's will become "the first city in the world to roll out McDonald's nuptial packages for couples," as of January 1, 2011.
Seriously.

And it only gets wackier: as Lam continues, "The package has all the details to attract a wedding banquet cynic or a Golden Arches obsessive: a baked apple pie wedding cake, dress made out of party balloons, kiddie party favors for guests, and of course, catering by McDonald's." (It must be noted, though, that the "baked apple pie wedding cake" is actually just a bunch of microwaved apple pies in individually-sized boxes stacked on top of one another.)
The one think a Mickey D's reception won't have? Alcohol, since the fast food joint wants to ensure that inebriated attendees won't act "inappropriately" inside their family restaurant. Then again, who needs champagne when you can have chocolate shakes?
Already, according to the South China Morning Post, the newly-christened wedding venue has been getting 10 calls a month from engaged couples. Starting today, pairs wishing to throw their engagement parties and anniversary parties at McDonald's can also reserve the restaurant.
Maybe the only truly surprising thing about this news is that Hong Kong beat the U.S. to the punch. How is it that fast food chains across this great nation don't already offer nuptial packages? Just think: at Burger King, you could have your wedding reception your way. At Chipotle, the cake could be made entirely out of guacamole and shredded cheese. At Pizza Hut… well, okay, we've got to draw the line somewhere; nobody wants to celebrate their wedding at a PIzza Hut. But still! There's got to be a market for this, right?
Have a tip we should know? tips@mediaite.com