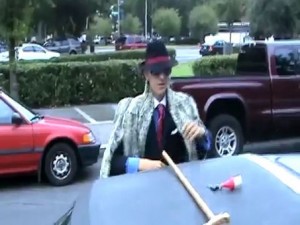 Oh, how the mighty have fallen. Once the toast of conservative "journalism," feted by Republican members of Congress, obeyed by the US Senate, James O'Keefe now faces scorn in the wake of his arrest for allegedly trying to spy on Senator Mary Landrieu. The pimp-suited crusader who brought the mighty ACORN to its knees has been genuflected by the FBI, and his former supporters are scurrying.
Will no one stand by James in his darkest hour? Who will offer O'Keefe a helping hand out from under that bus? I will.

Last night, Rachel Maddow gleefully reviewed the list of conservative luminaries and News Networks who extolled O'Keefe's virtues a few months ago, and wonders what that does to their credibility now:
First of all, we need to remember that O'Keefe is innocent until proven guilty! Fair is fair, and just as ACORN was presumed innocent until they were convicted in a court of law by O'Keefe's totally authentic and admissible videotapes, so should O'Keefe enjoy that presumption. Here's ACORN CEO Bertha Lewis on yesterday's Ed Schultz Show underscoring the point:
More importantly, though, you should walk a mile in James O'Keefe's shoes before you condemn him.
Journalism is hard. There, I said it. There are all these rules, first of all. You're only allowed to write what you can prove, and there's always some pain-in-the-ass editor to verify your sources and your process. Wouldn't it be easier to work for someone who wants to create new rules? See if the Washington Post or the New York Times, or even the Huffington Post, will provide its reporters with the cloak they need to tell the truth. Seriously, how can you trust information you get from someone whose name you know?
Once you get past journalistic ethics and pain-in-the-ass editors, you have to deal with all these laws that prevent you from setting up a sweet scoop-getting machine like a wiretap on a US Senator. Now, that's big journalism! Do you know how hard it is to get a Senator to talk to you? There aren't enough costumes at the Halloween Barn to make 'em do it.
So remember, O'Keefe is innocent until proven guilty, and even if he is found guilty, it will be in martyrdom to the cause of freedom for journalists everywhere, who labor under the cruel yoke of responsibility.
Have a tip we should know? tips@mediaite.com