InfoWars Has Officially Penetrated the White House Briefing Room — And Journos are Irate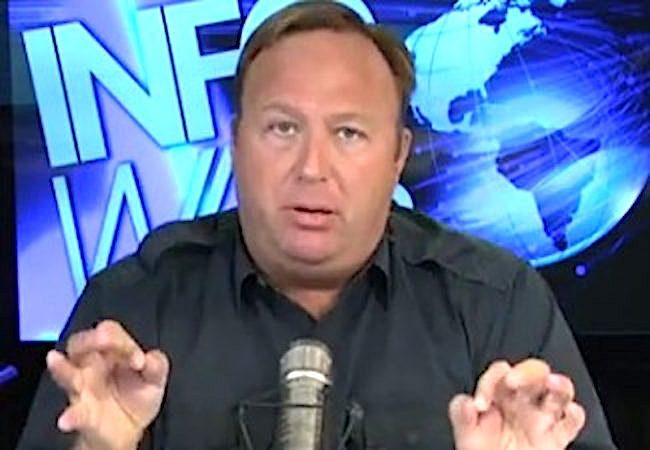 Jerome Corsi, the Washington D.C. bureau chief for the Alex Jones-helmed conspiracy site InfoWars, tweeted the following on Monday morning:
Jerome Corsi, Washington Bureau Chief, https://t.co/8yxnbeoqQC. We have WH PRESS CREDENTIALS. I'm in WH May 22, 2017 pic.twitter.com/ln9aE6nNOB

— Jerome Corsi (@jerome_corsi) May 22, 2017
Jones has claimed, since the first days of the Trump administration, that his site — which has peddled wild conspiracy theories like the claim the Sandy Hook massacre was staged — was offered White House press credentials. But Corsi is the first InfoWars correspondent to actually appear in the briefing room.
The InfoWars website posted about the news Monday.
"In an epic blow to the mainstream media's control of the narrative, Infowars has officially received White House Press Credentials that will allow Washington Bureau Chief Jerome Corsi to attend White House press briefings," the post said.
Journalists on Twitter were furious about InfoWars' presence at the White House — given their history of wildly erroneous claims, and given Jones' own lawyer said he should be considered a "performance artist."
Yesterday, Alex Jones said on his show I "called the stock market and notified them [Infowars] is fake news."

"Called the stock market."

— Ben Collins (@oneunderscore__) May 22, 2017
Infowars Washington bureau chief tweets celebrating getting WH media credentials.

Next tweet: Stop the media. pic.twitter.com/GEDd1mSKaT

— Frank Thorp V (@frankthorp) May 22, 2017
Don't let this get buried: the WH is normalizing Infowars, where 9/11 was an inside job & Sandy Hook never happened: https://t.co/JXBRvs1O0L

— Michael Bodley (@michael_bodley) May 22, 2017
The media outlet that insists Sandy Hook was a hoax depicted by paid actors now has White House press creds.

?? https://t.co/pBecTwE2Jl https://t.co/4PnmyH6QmM

— Frank Luntz (@FrankLuntz) May 22, 2017
Far-right conspiracy fan fiction site to White House. https://t.co/BuIKP6UlDN

— Pierre Omidyar (@pierre) May 22, 2017
One of the most prominent proponents of birtherism gets a White House press credential. https://t.co/GHEqU4fomx

— Philip Bump (@pbump) May 22, 2017
Birtherism, swiftboating — and WH press under Trump https://t.co/3xU2rrmx5Z

— Garance Franke-Ruta (@thegarance) May 22, 2017
Perfect https://t.co/fziWxfHK6m

— Matthew Yglesias (@mattyglesias) May 22, 2017
Infowars was STILL peddling the idea that Sandy Hook was a false flag in April. They have a White House credential. https://t.co/HwnL9q3FnP

— Bruce Arthur (@bruce_arthur) May 22, 2017
Infowars. Has. A White House. Credential.

— mike freeman (@mikefreemanNFL) May 22, 2017
InfoWars is now a credentialed media outlet by the White House.

Nothing matters.

Standards are meaningless.

— Denis Gorman (@DenisGorman) May 22, 2017
But according to multiple reports, Corsi was granted a day pass — the standards for which are dramatically lower than the permanent White House credential.
Re: Jerome Corsi and Info Wars: I saw his pass. It's a temporary day pass almost anyone who publishes can get. (They even gave it to me.)

— Mike Warren (@MichaelRWarren) May 22, 2017
CONTEXT: @infowars was given a day pass White House credential, not a permanent press pass. High school students can apply for day passes.

— Trey Yingst (@TreyYingst) May 22, 2017
[image via screengrab]
——
Follow Joe DePaolo (@joe_depaolo) on Twitter
Have a tip we should know? tips@mediaite.com
Joe DePaolo - Senior Editor