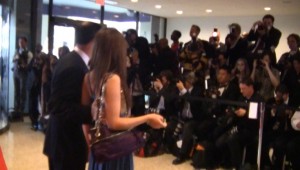 With the momentous news that Osama bin Laden has been killed, Saturday's White House Correspondents Dinner feels almost like an event from a bygone era. Still, for those of you who still remember the dinner, but have already seen President Obama's blistering Donald Trump routine, or Seth Meyers' dry-roasting of the media like so many smokehouse almonds, here's a little taste of what went on before and after the dinner.

While WHCD buzzkill Dana Milbank makes some good points about the excesses of the night, it is what it is, and as HuffPo's Jon Ward told me, "People who get all tense about parties maybe need to go to more of them."
Saturday night, I was a guest of Time Magazine at the star-studded Time-CNN-People-Fortune pre-reception in the Washington Hilton's Lincoln Room. According to Time (although I can vouch for most of it), the guest list included:
Here is a list of some of the politicians, media, and celebs that stopped by: Chris Colfer; Mila Kunis; Matthew Morrison; Mira Sorvino; Jon Hamm; Colin Powell; Steve Buscemi; Wolf Blitzer; Twitter co-founder Evan Williams; Eric Stonestreet, Jesse Tyler Ferguson and Ariel Winter from "Modern Family;" Sen, Scott Brown; Alyssa Milano; Jason Biggs; Bristol Palin; Chace Crawford; Candy Crowley; Tony Romo; Russell Simmons; Michelle Trachtenberg; Tom Hooper; Tara Subkoff; Tory Burch; Timothy Geithner;  David Plouffe; Eliot Spitzer; Anita Dunn; Meghan McCain and TIME Managing Editor Stengel; People Managing Editor Larry Hackett; FORTUNE Managing Editor Andy Serwer.

TIME WHCD guests Jay Roach, director and executive producer of "Game Change" for HBO and Danny Strong, producer of "Game Change" mingled with TIME's Mark Halperin, co-author of the best selling book that they are adapting.
I didn't shoot a whole lot of video (although I did get a decent number of still shots), as this was mainly a social occasion, but just enough to get a sense of the atmosphere.
On my way to the hotel, I ran into David Shuster and another old friend of mine, and as we walked into the hotel, I was stunned to see a dense crowd of media covering the entry. In the first section of video, that's Shuster and a colleague working the velvet rope, while the rest of us continued in to the hotel.
Later, I spotted The Office star Mindy Kaling (who plays Kelly Kapoor on the show), and asked her what made her want to attend our little dinner.
The laugh of the night, for me, came from Fox News anchor Chris Wallace who, when I introduced myself, narrowed his eyes into a suspicious glare, held up his hand, and said, "Wait, who are you with? Media Matters?"
I laughed and said, "No, those guys hate me."
I also ran into former White House Communications Director (and Fox-fighting heroine to many on the left) Anita Dunn, who immediately volunteered that she "loves Mediaite.com," which I then made her repeat on-camera (after quizzing her to make sure she was really talking about us, and not Media Matters).
As I was speaking with Dunn, who should wander over but Mediaite Editor-at-Large Rachel Sklar, who contributed her own set of party photos to this post.
After the dinner, (which I spent filming protesters outside the hotel, and watching the President and Seth Meyers in a suite full of Rachel Sklar's pals) I went to the buzzed-about Capitol File after-party in the Reagan building. The balance of the video is a brief shot of the Cap File party, and a minute or so of a killjoy Code Pink protester, who, I found out, annoyed even the liberals in the crowd.
People I ran into but didn't photograph include: Jake Tapper and wife Jennifer (who were leaving the pre-parties as I came in), Treasury Secretary Tim Geithner (who streaked through the party like a fiscal Frank the Tank), Glee star Matthew Morrison (who unwittingly threw a pick-move on me as I tried to track Geithner down), Meghan McCain (who I saw but didn't really recognize until I saw her name on the post-party email), Joe Klein, CNN's Will Cain, Dan Lothian and Suzanne Malveaux, Morning Joe EP Chris Licht, HuffPo's Sam Stein and Jon Ward, Will.i.am, AP's Ben Feller, The Washington Times' Liz Glover, and ABC News Radio's Ann Compton (I did photograph Ann, who looked like a million bucks, but the pictures were too dark).
Here's a gallery of stills that I took Saturday night, along with some further observations, followed by a slew of stills from Rachel Sklar.
Gallery unavailable
Gallery
Have a tip we should know? tips@mediaite.com