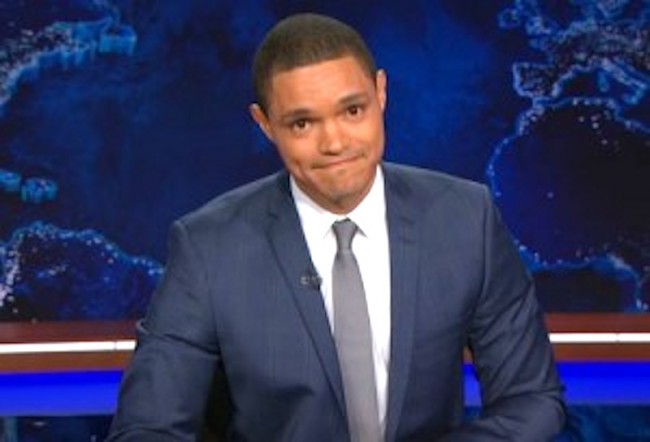 International satire shows are learning what American television executives have known for some time: Donald Trump is great for ratings.
CBS CEO Les Moonves infamously said that Trump's presidential run "may not be good for America, but it's damn good for CBS." CNN chief, Jeff Zucker, has been repeatedly blamed for Trump's rise to prominence because his network gave the business mogul so much free airtime every time he said something outrageous along the campaign trail.
Now, post-election, Trump is still a ratings-boosting beast. Rachel Maddow is benefitting, as is Trevor Noah, who helms the satirical The Daily Show on Comedy Central. Even globally, the trend is taking hold.
The Hollywood Reporter did a little digging in their latest issue, trying to figure out what the deal is with all these satirical news shows and their relationship to Trump. "The Late Show With Stephen Colbert, The Daily Show with Trevor Noah, and Full Frontal With Samantha Bee are all basking in a Trump bump," they proclaimed.
Full Frontal's executive producer Miles Kahn put it like this:
When we launched last year I was a little worried the market was a bit too saturated [with news satire shows], but there seems to be a hunger out there to talk about what is happening right now. We can't seem to help ourselves.
In February, Britain's ITV network started joining in on the fun when they started broadcasting The Nightly Show, the nation's first daily satire show. Its ratings are up, predictably. Similarly, Germany is cashing in and smashing viewership records with the weekly program Die Heute Show. Oh, and don't forget France's Touche Pas Mon Poste, which is also having record ratings.
So, Trump's campaign promises about how good he would be jobs was sort of right — especially if you work for a satirical news show.
[image via screengrab]
——
Have a tip we should know? tips@mediaite.com