Today is a quiet day in the Twitter news cycle, with the Rose Bowl and the Outback Bowl and various other bowl games on TV along with hockey legends Bobby Orr and Bobby Clarke at the NHL Winter Classic, and reminiscences about #10yearsago and post-NYE nuggets about J.Lo and Kathy Griffin making the rounds. But I just came across a jarring tweet from new media entrepreneur and investor John Borthwick: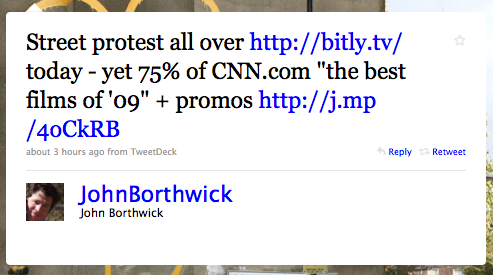 I went over to bitly.tv and these were two of a number of #IranElection-themed videos — unverifiable — but sadly timed to Sunday's flare-up again of protests in Iran against the oppressive regime, and the crackdown of those protests in a sad and scary echo of last June (but at the worst possible time for the West's attention span in the middle of the holidays). Borthwick's observation about CNN notwithstanding, the #IranElection tag continues to stay strong on Twitter (649 new tweets in the last 5 or so minutes), including from influential tweeters like Alyssa Milano with 546,188 followers.
This next video is one that has been seen already across the web and TV the past week (including CNN), of a car backing up over a protestor (hard to watch, be warned). After that is a video called "Iran Interviews That Will Never Air" (there is a translation, as well as debate about the videos authenticity, in the comments). Both are reminders that a lot of what happened in 2009 will still echo on into 2010, both for good and ill. That is especially apparent in the unfolding story of #IranElection. Hopefully in 2010 the good will start to weigh out. Until then, what can you do but pay attention? See below.
Have a tip we should know? tips@mediaite.com