Is Alex Jones Deleting #Pizzagate Content Because Comet Ping Pong Shooter Watched InfoWars Video?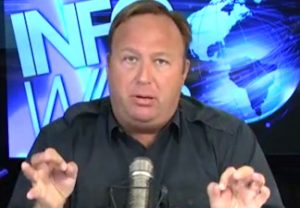 It appears that one of the biggest disseminators of the conspiracy theory #Pizzagate has been going back and deleting content related to the fake news story.
According to Media Matters for America, Alex Jones and his site InfoWars have been scrubbing the website and YouTube channel of videos and articles that were supportive of the crazed theory, which claims that Hillary Clinton and her campaign were involved in a child sex ring at a D.C. pizzeria, Comet Ping Pong. Earlier this month, Edgar Maddison Welch went to the restaurant to self-investigate the story, firing an assault rifle inside the establishment.
As MMfA highlighted, the criminal complaint reveals that Welch told police that he had watched a video that was produced by InfoWars on December 1st — 'Pizzagate: The Bigger Picture.' The article, which promoted a video from producer Jon Bowne pushing the conspiracy theory, is still online.
However, much of the rest of the #Pizzagate content on InfoWars is now gone. On November 27th, Jones spent roughly 30 minutes on his program explaining the story and telling his audience to go out and investigate the matter for themselves. He also explained that he would be getting on a plane to go to Comet Ping Pong himself to investigate. He would shortly backtrack, saying it was "really creepy" and "he doesn't have the self-control to be around those people" while noting that they've had reporters go there and they'd keep covering it.
That video is no longer available, as is other related content.
He has since removed the video. According to the Internet Archive, the "Down The #Pizzagate Rabbit Hole" video was online as of December 6 but "removed by the user" by December 7. A tweet by Jones promoting the video is still online; it captures roughly 10 minutes of the video and links to the removed YouTube page. Non-Jones YouTube accounts have re-uploaded the "Down The #Pizzagate Rabbit Hole – Warning! Soul Sucking Info." The video is roughly 30 minutes long.

Jones also removed the Jon Bowne video that Jones played during his November 27 program. On November 23, Jones' YouTube channel posted the video with the headline "Pizzagate Is Real: Something Is Going On, But What?" The video was removed "by the user" shortly after the shooting, according to the Internet Archive.
On top of that, in a video he posted on the 15th, shown above, Jones said that he previously stated that there was likely nothing going on in the Pizzagate story and that he had warned his staff that it was "probably a setup." He also added that someone shooting up the place would be a way to set him up to be banned from the airwaves as he'd be blamed for the actions.
[image via screengrab]
–
Follow Justin Baragona on Twitter: @justinbaragona
Have a tip we should know? tips@mediaite.com