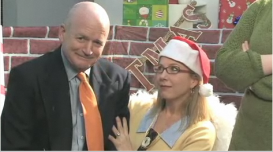 Last week WebMediaBrands CEO Alan Meckler had media tongues wagging when he twittered out that his company (formerly Jupiter Media) was "on the prowl for acquisitions" igniting rumors that it might be interested in purchasing PaidContent should that company be for sale (it's unclear whether it is).
Meckler and WebMediaBrands (then Jupiter) made their spending powers known back in 2007 when they purchased Laurel Touby's mediabistro.com for $20 million (full disclosure: I used to work for mediabistro.com, as did a number of my current Mediaite co-workers). Just this past summer WebMediaBrands sold off Internet.com for $18 million in cash (this followed the laying off of 60 people at the company in March) and Meckler tells AOL's Daily Finance that "we have $25 million in the bank and virtually no debt, so we're looking for sites that media professionals read." Certainly sounds like WebMediaBrands is positioning itself to become even more of a media and event powerhouse. But is all as it seems?
Lost in the speculation seems to the the fact that on September 16, WebMediaBrands received a Nasdaq notification letter warning them that the company "no longer complies with the requirements of Nasdaq Marketplace Rule 5450(a)(1) for continued listing on the Nasdaq Global Market" and that if they did not raise their stock price above a $1 they risked losing their listing. According to Nasdaq rules the company has "180 calendar days, or until March 15, 2010, in which to regain compliance with the listing requirement." Yowzer. Being booted off Nasdaq is no small thing. It essentially means that the powers that determine these things have not only lost faith in the company but lost faith that the company will ever pull itself back out of the hole it is currently in. Short version: getting kicked off the Nasdaq is bad. Of course this hasn't happened yet to WebMediaBrands, they're just being warned against it. So how to raise stock price? How about some well-timed bluffing.
It's not a secret (less so this last year!) that stock prices have a lot to do with perceived strength. And as we've already noted above, Meckler is sure sending out the sort of signals that would encourage people to perceive his company as healthy and strong even if the Nasdaq numbers don't quite (yet) support that conclusion. So: is his assertion that the company is "actively looking for acquisitions" merely one way to convince people to invest? Only time will really tell — and really aren't the markets just one big guessing game — and according to Nasdaq we have slightly less than 180 days to find out. Meckler himself certainly hasn't hesitated to invest.
Have a tip we should know? tips@mediaite.com