Israel Freezes Entry Permits For Palestinians Following Deadly Tel Aviv Attacks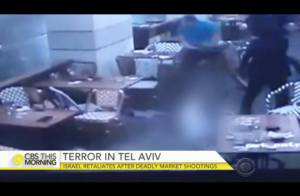 In response to the deadly attacks Wednesday that killed four Israelis in a public market in Tel Aviv, Israel has suspended entry permits for more than 80,000 Palestinians.
The attacks on the Sarona Market in Tel Aviv left four dead after a flurry of gunfire was opened on unsuspecting diners Wednesday evening. Both attackers, believed to be cousins from the Palestinian village of Yatta in the West Bank, are currently in custody.
While the Sunni-Islamic group Hamas called the attacks "heroic," they did not claim direct responsibility. Sixteen people were also injured in the gunfire, and Israeli Prime Minister Benjamin Netanyahu visited the Sarona Market shortly afterwards, calling the attacks, "a savage crime of murder and terrorism." He continued, "We held a discussion on a string of offensive and defensive measures that we will take to act against this phenomenon."
The freezing of Palestinian permits by Israel is expected to have a severe impact on tens of thousands of Palestinians who had expected to travel for Ramadan this month. Travel in and out of the Tel Aviv airport will be affected by the permit suspension, and many Palestinians in the Gaza Strip and West Bank will be directly impacted. According to the BBC News, permits for over 200 family members of the two attackers have also been directly discontinued for the time being.
Israel has also dispatched additional battalions of military personnel to the West Bank in response to Wednesday's attacks. Police spokesman Micky Rosenfeld confirmed that the travel hubs of Tel Aviv including bus and train stations will be areas of increased focus for police.
According to the Washington Post, the now-suspended permits were initially issued, "as a goodwill gesture to allow greater freedom of movement for Palestinians over the Muslim fasting month of Ramadan," which began earlier this week. Ramadan marks a busy travel time for Muslims visiting relatives, and there are no reports as to when Israel will lift the suspension of these travel permits.
—
J.D. Durkin (@jiveDurkey) is an editorial producer and columnist at Mediaite.
[h/t The BBC]
Have a tip we should know? tips@mediaite.com