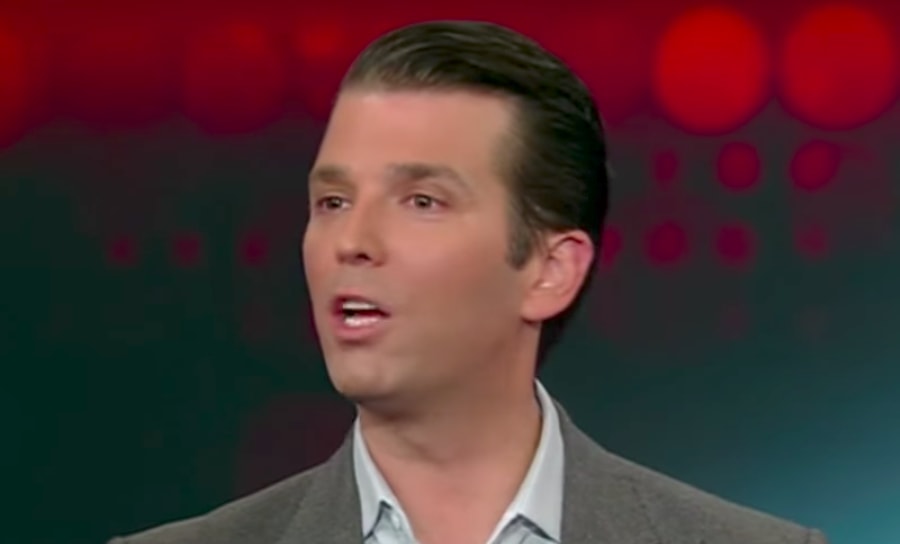 Defenses of President Donald Trump and his campaign's possibly illicit ties to Russia have shifted in recent weeks. Spokespeople who once held that there was no contact between the campaign and Russia are now reckoning with revelations Donald Trump Jr. met with a Russian lawyer in June, 2016 to obtain Kremlin-sourced dirt on Hillary Clinton.
Which brings us to the current defense of Don Jr.'s meeting, hinted at by the president himself and his son, and explicitly trumpeted ad nauseam on Fox News and the online MAGA-verse: that collusion is not necessarily illegal.
A new poll from the left-leaning Public Policy Polling found that a staggering number of Trump voters — 72 per cent — believe the entire Russia story is "fake news" — with 32 per cent believing the Don Jr. meeting never took place, despite the president's son himself admitting it did.
Perhaps more interesting, however, is the poll's revelation that 77 per cent of Trump voters believe the president should stay in office if it turned out his campaign did collude with Russia to defeat Clinton.
Those sentiments were echoed by Mike Cernovich, a prominent pro-Trump voice online, who responded to a Bill Kristol tweet pointing out the evolving defenses of Don Jr.'s meeting — claiming that even "smoking gun" evidence of collusion "would not change our minds":
He's lying here, but the chicken hawk is right on one point – We don't care. Even "smoking gun evidence" won't change our minds. https://t.co/uemMEBbkQR

— Mike Cernovich ?? (@Cernovich) July 18, 2017
Once again: "smoking gun evidence" won't change the minds of Trump supporters.
When asked about this assertion, Cernovich told Mediaite that as "long as no laws were violated, I couldn't care less" about possible collusion between the campaign and Russia.
"Ukraine tried helping Hillary. The Saudi Prince also helped Hillary. No one in media cared about that, which is why we don't take the Russia stuff coming from the media seriously," he said.
While Democrats have salivated at news of Don Jr.'s meeting as evidence that the Trump campaign was, at the very least, open to colluding with the Kremlin, many on the right have asked what law the president's son actually broke, even if he did receive damaging information from the Russian government.
"Can anyone identify the crime?" Brit Hume asked on Fox News in June. "Name the statute," Republican congressman Dave Brat declared in MSNBC, adding "everybody colludes."
It must be noted how staggering it is to hear elder conservative thought leaders like Hume, once so concerned with the sanctity of "American Exceptionalism", shed their exuberant patriotism in order to normalize the possibility that Russian colluded with a winning campaign that just happens to have elected their candidate of choice.
There may not be anything illegal about Don Jr. simply meeting with a Russian lawyer, but if actual information was exchanged at any point, there could very well be criminal consequences. Legal experts have pointed to a dizzying array of federal statutes the Trump campaign could have violated had they collaborated with the Russian government to influence the U.S. election.
So for now, Trump supporters are hedging that even if evidence of collusion is found, that doesn't necessarily entail criminal wrongdoing. But let's assume Robert Mueller's sprawling investigation finds evidence of collusion between the Trump campaign and the Kremlin, and determines it criminal.
Whether the base of Trump's support actually erodes — or the goalposts are simply moved again — is not yet clear.
[image via screengrab]
—
Follow Aidan McLaughlin (@aidnmclaughlin) on Twitter
This is an opinion piece. The views expressed in this article are those of just the author.
Aidan McLaughlin - Editor in Chief