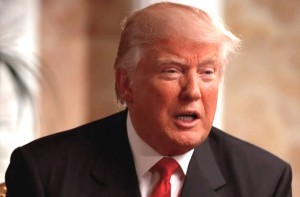 Flouting tradition and voters' expectations, Donald Trump's campaign manager finally and definitively told reporters that the GOP nominee would not be releasing his tax returns before the election.
The announcement comes after months of probing from the media and his own party, and effectively closes the door on the possibility that Americans will get an up-close look at Trump's finances.
Experts believe that the hack which exposed tens of thousands of DNC emails to the public was carried out by actors close to Russian leadership, fueling speculation that the Kremlin is interceding on Trump's behalf. Some have speculated that Trump's tax returns would reveal a financial connection to Russian oligarchs.
Trump campaign chief Paul Manafort said on CBS This Morning:
Mr. Trump has said that his taxes are under audit and he will not be releasing them. It has nothing to do with Russia, it has nothing to do with any country other than the United States and his normal tax auditing process. So that issue will be dealt with when the audits are done.
Trump has repeatedly pointed to the fact that he is under an audit as a pretense for his unwillingness to disclose, though that excuse is invalid.
2012 Republican nominee Mitt Romney said in March that there was likely a "bombshell" in Trump's tax returns. He told Fox's Neil Cavuto:
I think there is something there. Either he is not anywhere near as wealthy as he says he is or he hasn't been paying the kind of taxes we would expect him to pay or perhaps he hasn't been giving money to the vets or the disable like he has been telling us he's been doing. The reason I think there is a bombshell in there is because every time he is asked about his taxes he dodges and delays and says well we're working on it.

[…] He likes to tell people how well he's done, why isn't he willing to let us look at the tax return?
MSNBC's Steve Bensen notes that every presidential candidate since Watergate has released their tax returns.
—
Sam Reisman (@thericeman) is a staff editor at Mediaite.
Have a tip we should know? tips@mediaite.com