Jerry Sandusky's Lawyers Could Use Erroneous NBC Interview Edit To Overturn Conviction
Jerry Sandusky's Lawyers Could Use NBC Interview Edit To Overturn Conviction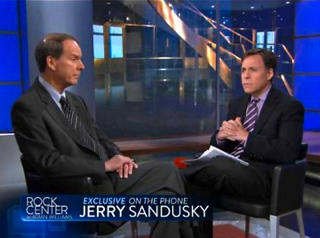 An erroneous edit in an NBC News interview could become the crux of an appeal for convicted child sex abuser Jerry Sandusky, Reuters is reporting today. In an interview with Bob Costas aired to the jury, Sandusky gave a roundabout answer to the question "are you attracted to young boys," a question the broadcast aired twice, which lawyer Joe Amendola is now arguing should lead to a new trial.

RELATED: Sandusky's Lawyer To Anderson Cooper: 'I Promised The Jury Jerry Would Testify'
Reuters notes that NBC received a subpoena over the matter, and the court is reviewing the matter:
In response to a subpoena, NBC News turned over three versions of Bob Costas' NBC News interview with Sandusky, which aired last November on different NBC shows.

One of those versions, which was broadcast on the 'Today' show, contained an erroneous repetition of a key question and answer – about whether Sandusky was sexually attracted to young boys, Nils Frederiksen, a spokesman for the Pennsylvania attorney general said on Sunday.

The repetition, Sandusky's lawyers contend, made it appear to jurors that he was stonewalling.

"It wasn't noticed by (NBC News), it wasn't noticed by us, but it became obvious when it played in court," Frederiksen told Reuters.
While Amendola's mistrial request has been, for the time being, denied, this appears to be one of the angles from which the defense will attempt to get their client out of 43 convictions of child sexual abuse. NBC said in a statement that they had complied with the court's request for the original tape, and that they had internally discussed the matter:
"After court that day, NBC News executives had a series of discussion with the prosecutors, and after some internal investigation were able to determine that the glitch originated on 'Today.' NBC News executives explained the situation to the court, and Judge Cleland sought to remedy the situation by giving the jury instructions to regard only a transcript of the full interview that was subsequently provided to them, not any audio that was played for them by prosecutors."
—–
» Follow Frances Martel on Twitter
Have a tip we should know? tips@mediaite.com