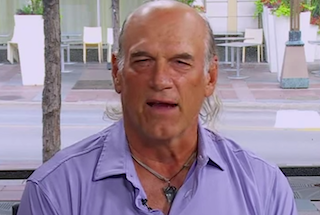 Former Minnesota Governor Jesse Ventura, who successfully sued Navy SEAL Chris Kyle's estate and was awarded $1.8 million for defamation last year, is finally speaking out about the new Clint Eastwood film American Sniper. The Associated Press managed to track down the "Off the Grid" host at his home in Baja California, Mexico, where he said he believes Kyle was a "liar" and therefore not a "hero."
"A hero must be honorable, must have honor. And you can't have honor if you're a liar. There is no honor in lying," Ventura said in an interview, indicating that he has no plans to see the film version of Kyle's story. "It's as authentic as Dirty Harry," he added, referencing one of Eastwood's most famous roles.
Kyle wrote in his book, also titled American Sniper
, about an incident in which he punched out a man in a bar for badmouthing the U.S. military. In a subsequent appearance on The O'Reilly Factor, Kyle identified Ventura as that man.
Ventura, claiming the entire incident never occurred, filed a defamation lawsuit and pressed forward with it even after Kyle was murdered in 2013.
In an interview on CBS This Morning following his victory in court, Ventura lamented the fact that the lawsuit itself. had damaged his reputation. "If seeking the truth damages you, then we live in a pretty sorry world, don't we?" he asked.
Watch video below, via CBS:
[Photo via screengrab]
— —
>> Follow Matt Wilstein (@TheMattWilstein) on Twitter
[Photo via screengrab]
— —
Have a tip we should know? tips@mediaite.com