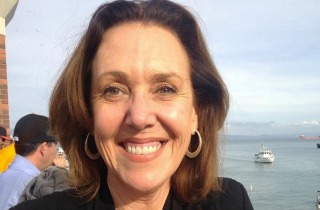 Doesn't The Daily Show's Jon Stewart know that there can only be one true white person who understands black people? Doesn't he know that that person is Salon editor Joan Walsh?
It's hard to imagine there was a single liberal in America who didn't applaud Stewart taking a stand Wednesday when he debated Fox's Bill O'Reilly over the existence of white privilege.
But Walsh might be that single liberal.
For anyone who thinks O'Reilly is largely tone-deaf to racial injustices, Stewart put up an honorable fight. But in a new column, Walsh asserts that the whole debate was pointless because people like O'Reilly, who has long maintained that "white privilege" in America is a myth, will never be convinced.
"That's why these two men's showdowns are getting tedious to me," writes Walsh, possibly shocking her readers. "It helps Stewart's brand, it help's O'Reilly's brand. Stewart proves he's superior, O'Reilly proves he's an embattled warrior for the truth. Two white men, making their money, and everybody goes home happy."
Everybody goes home happy. Except Walsh. She closed her column with this shot at Stewart: "It's hard not to wonder if the guy who told the Crossfire debaters they were 'hurting America' a decade ago might say the same about the two guys yammering last night."
Relax. There's plenty of action to go around for white, race-obsessed liberals. She can share just a little with Stewart this one time.
[Photo via Twitter @joanwalsh]
— —
>> Follow Eddie Scarry (@eScarry) on Twitter
This is an opinion piece. The views expressed in this article are those of just the author.