John Kasich and Dem Governor Hickenlooper Looking at 2020 Unity Presidential Ticket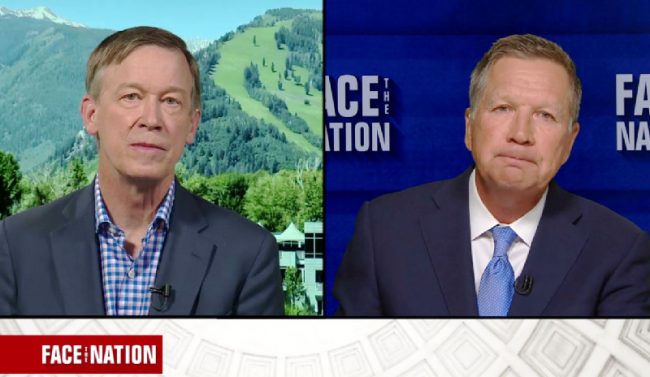 There has been quite a bit of speculation in recent weeks that President Donald Trump could face a Republican primary challenge in 2020. The murmurs have grown loud enough that GOP lawmakers are now openly stating that the president is "inviting" a a primary opponent to run against him. And there is the whole open question about whether or not Vice President Mike Pence is setting the table for his own 2020 run.
However, if Trump is able to withstand any possible challenges from within his party, it appears he may have to contend with not just the Democratic nominee, but a formidable independent ticket. Both Axios and CNN are reporting this morning that Republican Ohio Governor John Kasich and Democratic Colorado Governor John Hickenlooper are eyeing a "unity" ticket for 2020.
The two men have been making joint appearances of late to discuss their state-focused initiatives on health care. They also plan to talk more about other major policy issues like immigration and jobs.
Per Axios, the two men are speaking to media companies about hosting a cable show or podcast to help build momentum around their brand. Kasich has also reportedly urged Hickenlooper to visit New Hampshire. Meanwhile, CNN's source noted that there have been discussions of the unity ticket:
"The idea of a joint ticket has been discussed, but not at an organizational or planning level," said the source, who spoke only on the condition of anonymity. "What they are trying to show the country is that honorable people can disagree, but you can still problem solve together. It happens in businesses and it happens in families. Why can't it happen in Washington?"
Earlier in the month, Hickenlooper told Politico that he didn't think Kasich would ever do a joint ticket but that "[y]ou never know," adding that he didn't think it was "in the cards" but that he liked the idea of working with Kasich in some capacity.
Kasich ran against Trump in the 2016 GOP primary and has been largely critical of the president in the past few months. His name has been bandied about as one of the likeliest possibilities to challenge POTUS in the 2020 primary.
[image via screengrab]
—
Follow Justin Baragona on Twitter: @justinbaragona
Have a tip we should know? tips@mediaite.com