Sketchy News Outlets Distressed John Kelly is Blocking Them From Reaching Trump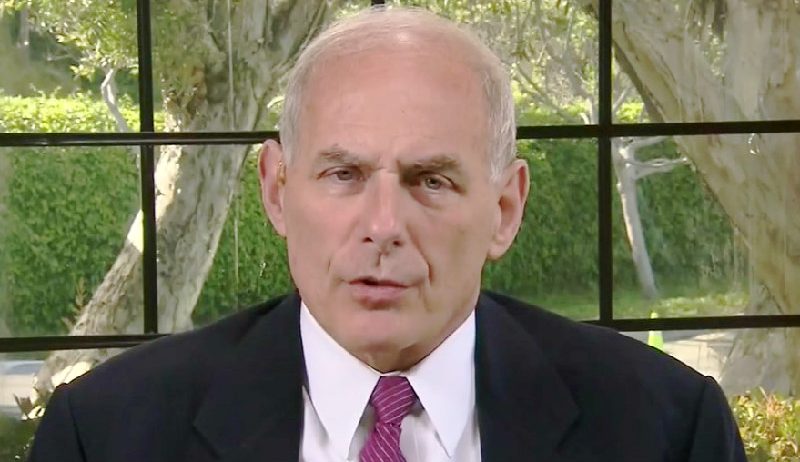 Newly-anointed chief of staff John Kelly has been implementing a strict regimen on the flows of information in President Donald Trump's White House, reportedly focused on stopping dubious news from reaching the Oval Office.
It has been reported before that Trump's free-flowing White House has allowed for a number of articles from sketchy sources — from conspiracy huckster Alex Jones' Infowars to fantasist troll Chuck Johnson's GotNews.com — to be passed on to the president by aides, senior advisers and family members.
But retired Marine Corps General Kelly has reportedly closed the door on fake news reaching the Resolute Desk — a move that is angering "far right and anti-establishment sources," according to Buzzfeed.
Lucian Wintrich, the Twinks4Trump guy who now works as a White House reporter for Gateway Pundit, a cesspool with a URL, told Buzzfeed he is "scared that the military complex is taking over the formerly populist White House."
Roger Stone and Mike Cernovich also expressed their displeasure with the strict new regimen:
Longtime Trump adviser and occasional Infowars guest Roger Stone said Trump's "news summaries have been sanitized, which means no Infowars, no Daily Caller, no Breitbart. As such, his views are shaped by CNN and FOX News. He watches network news as well, which is almost antiquated. That's why he's so mad about the Russia investigation."

"He's controlling every article that passes through the West Wing right now," pro-Trump media personality Mike Cernovich, who has broken news on the administration but also propagated conspiracy theories in the past, said of Kelly. "This shuts out a lot of people."
Cernovich did point out that Kelly's move "could be seen as a workflow improvement," as before the existence of "a chain of command, everyone would litigate their pet issues with Trump when it was an open door policy."
The blogger told Buzzfeed he is confident that if there is an important news story from an outlet Kelly is excluding, Don Jr., the president's son, would pass it on.
But a source close to the administration said that while that may be true, it's not a good thing:
"Don Jr. is a huge problem," the source said, saying he passes questionable articles to the president. "He needs to be a galaxy away from that place."
Indeed, a look at Don Jr.'s Twitter feed shows the president's large adult son is more than susceptible to right-wing conspiracy theories (his predilection for dubious news is comprehensively detailed by Erin Gloria Ryan in the Daily Beast.)
[image via screengrab]
—
Follow Aidan McLaughlin (@aidnmclaughlin) on Twitter
Have a tip we should know? tips@mediaite.com
Aidan McLaughlin - Editor in Chief