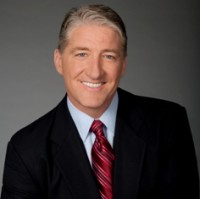 John King's new CNN show at 7pmET will launch sometime…soon, and he and CNN have found a creative way to make the announcement of when that will be and what it will be called – Twitter clues.
That's right, stay tuned to Twitter for the details about the delayed launch of one of the most important CNN products in the last couple years.
King announced the Da Vince Code-like scavenger hunt last night:
Gearing up for the new 7p show! want the name and launch date? will tweet clues rest of the week _ at 7 am/pm (eastern). Check back!
And here's your first, mysterious clue:
Good morning. First clue: new show name tied to something special we share. More re name and launch @7a & 7pE thru final clue fri! #cnn.
Hmm, this doesn't bode well for my choice, State Of The Magic Wall.
Look, it seems like a silly idea, but it certainly is creative – especially for the most traditional of cable news outlets. And I have to admit I'll be checking out King's tweets more often and more specifically now. But the launch has already been the subject of some questions. It was originally slated for 'early 2010', and the CNN release about Candy Crowley taking over State of the Union said it would launch in February.
And for the CNN haters who think the headline is an exaggeration, keep in mind the 7pmET slot is almost prime time, and by replacing CNN mainstay Lou Dobbs, King's show will garner extra attention. And with the state of CNN's prime time ratings (reaching historic lows), they need a hit. Because of the added pressure, King's show will either be a huge success by improving the 7pmET ratings from when Dobbs was the host as well as helping lead into Campbell Brown's 8pmET show or it won't boost ratings and be viewed as, well, a failure.
It's pressure that's frankly unfair to King, but CNN needs a winner when the moon comes out, and right now their hopes lie with King. So check out Twitter to find out when we'll get to see the plan in action.
—–
» Follow Steve Krakauer on Twitter
Have a tip we should know? tips@mediaite.com