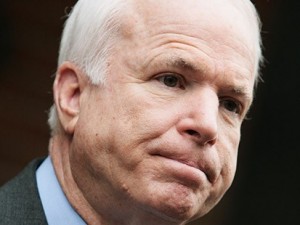 While on the campaign trail in Ohio, Sen. John McCain took a brief look back at the 2008 presidential race. President Barack Obama tied McCain with President George W. Bush's record, he said, but now things are different because he's the incumbent.
"With some legitimacy, Barack Obama hung the Bush record around my neck," McCain said on Tuesday. "All's fair" and he's "not complaining," he said in a phone interview with the Associated Press — "but I found myself in a position (in 2008) where I was having to defend President Bush, as well as my own vision for America."
Four years later, though, it's Obama's record we should be looking at.
"Now this is the president, incumbent, who said if the deficit wasn't cut in half he shouldn't run again. This is the president that said that if we pass the stimulus package that unemployment would be less than 6 percent," he continued. "This is the president who we just found out has not shown leadership in the Middle East to the degree where the attack on our U.S. consulate in Libya has turned into a major scandal."
And Romney, he said, is justified in pointing out Obama's first-term shortcomings. In terms of ever-important state of Ohio, McCain refrained from speculating which candidate will win it over.
"I can draw a scenario where Mitt Romney can win without Ohio, but it's a very, very difficult path," he said. "And so I think the eyes of the world will be on Ohio and, from the polling that I see — and this is obviously a very dynamic situation — we could be up late."
(H/T HuffPost)
Have a tip we should know? tips@mediaite.com