Joint Chiefs Chairman 'Disappointed' With Former Military Members Over Anti-Obama Campaign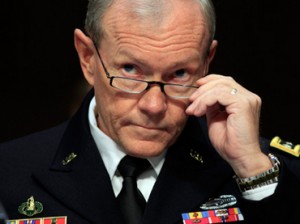 An ad released earlier this month by a group made up of former special operations and intelligence officials slammed President Obama for leaking intelligence information and taking too much credit for the raid that took out Osama bin Laden. Even though the group has claimed to be non-partisan, it does have a number of affiliations with Republicans. Martin Dempsey, chairman of the Joint Chiefs of Staff, spoke out against the group, expressing his disappointment that anyone would use the uniform for "partisan politics."
RELATED: Will Cain Defends Swiftboat-Style Ad Slamming President Obama Over Osama Bin Laden Raid
Dempsey told Fox News yesterday that the military should be "apolitical" and not turn into "another special interest group," saying such activity was not useful.
"If someone uses the uniform, whatever uniform, for partisan politics, I am disappointed because I think it does erode that bond of trust we have with the American people," Joint Chiefs Chairman Gen. Martin Dempsey said in an interview with Fox News while flying back from a trip to Afghanistan and Iraq…

"Is their criticism valid? I won't comment on that," Dempsey said onboard a C17 military aircraft en route back from the Middle East. "Is it useful? No, it's not useful. It's not useful to me."

Dempsey said as the steward of his profession — the military — he thinks it imperative that the military remain "apolitical."
A former Navy SEAL involved with the group responded to Dempsey last night, saying "We fought for [our First Amendment rights], and we're going to continue to do so."
Another group called Special Operation Speaks was founded by an ex-Navy SEAL who admitted in an interview earlier this month that he is a birther.
Watch his remarks from Fox below:
h/t Fox News
Have a tip we should know? tips@mediaite.com
Josh Feldman - Senior Editor