Jon Stewart Asks 'Sanity' Rally Goers To Not "Be Dicks" And Pick Up Their Trash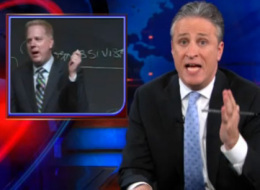 The other day I jokingly suggested that if Jon Stewart want to compete for the America's Got Rally crown he would have to leave National Mall even cleaner than Glenn Beck had done. Well, from this blog to his FAQ section:
We encourage you to make donations to the Trust for The National Mall. We feel it's important to preserve this historic site for future rallies and for future Americans to rally on! And let's face it; we're a little afraid that you might make a mess. We really, really hope you don't — we hope that, in the name of sanity and reasonableness, you won't be dicks and will actually pick up after yourselves. But just in case you accidentally, like, put a beverage down on the Mall's coffee table without using a coaster, we figure that giving a little something back to the National Mall might, at least, soften the blow. But really, mainly, it's about the "preserving the historic site" thing. Donate here.

Also, all proceeds from sales of the official Rally to Restore Sanity merchandise will be donated to the Trust for the National Mall.
I have this vision of Jon Stewart staffers sifting through every detail of Glenn Beck's 8/28 rally as reported by Glenn Beck and constructing their own do's and don't's list. To that end, here is the note about signs:
Yes, you can bring signs that demonstrate your sanity and reasonableness. And remember to be super-courteous with your signs and do not obstruct your neighbor's view or enjoyment of the rally. Be kind, all the time.
It's going to be a tough call for the judges. Meanwhile if you are planning on attending the rally its location has been released and it appears to be at the opposite end of the mall from where both Beck and the One Nation rally staged theirs.
Have a tip we should know? tips@mediaite.com