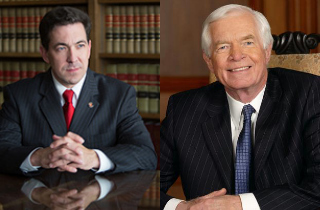 The Mississippi GOP primary fight just won't end, and now opponents are accusing their enemies of murder.
Le beckstory: tea party challenger Chris McDaniel narrowly edged out longtime incumbent Senator Thad Cochran (R-MS) in the primary election last month, but failed to clear the 50% threshold, triggering a runoff, which Cochran won largely thanks to African-American Democratic turnout (MS has an open primary). McDaniel has refused to concede, and accusations that Cochran purchased the Democratic votes have been wafting up from McDaniel's corner, culminating in the sabotaging of a press call from Cochran's campaign yesterday.
MEANWHILE, a stunt to grab pictures of Cochran's wife, who is in a hospice with progressive dementia, backfired, and one of the participants facing legal action, Mark Mayfield, committed suicide last week. McDaniel supporters (and Mayfield's family) have intimated that the GOP establishment, represented by the National Republican Senatorial Committee, has "blood on its hands" for its hardball tactics they feel contributed to Mayfield's suicide.
Cue journalist Charles Johnson, who's been offering money for sources with information on everything from those photographs to alleged payment for votes (more on him here). He mixed it up on Twitter last night with NRSC spokesperson Brad Dayspring, and it got ugly:
@BDayspring I'm a picture of mental health. Thanks for the name calling.

— Charles C. Johnson (@ChuckCJohnson) July 3, 2014
@BDayspring it wasn't illegal. You helped kill a man.

— Charles C. Johnson (@ChuckCJohnson) July 3, 2014
.@ChuckCJohnson I rest my case. Have a nice night. Polish those "journalism" awards.

— Brad Dayspring (@BDayspring) July 3, 2014
[Image via Thad Cochran / Chris McDaniel]
——
>> Follow Evan McMurry (@evanmcmurry) on Twitter
Have a tip we should know? [email protected]