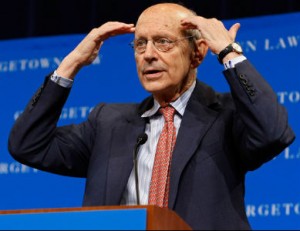 The average age of the Supreme Court is currently 64, a year shy of retirement age. Yet that's still no excuse for the bench to be completely clueless when it comes to social media. So it was a bit disheartening when Justice Stephen Breyer revealed that he and his colleagues can't quite grasp modern technology. As he said in a speech at Vanderbilt, "If I'm applying the First Amendment, I have to apply it to a world where there's an Internet, and there's Facebook." Hey, that's this world! He continued, "And there are movies like The Social Network, which I couldn't even understand."
To be fair, Jesse Eisenberg does deliver Aaron Sorkin's dialogue very quickly, but still. Breyer went on to mention other instances of digital ignorance within the Court. As the Associated Press reports,
Chief Justice John Roberts in a public employee privacy case before the court earlier this year tried to figure out the role of a text-messaging service in enabling an exchange between two people.

"I thought, you know, you push a button; it goes right to the other thing," Roberts said. Responded Justice Antonin Scalia: "You mean it doesn't go right to the other thing?"
In another example provided by the AP, one case prompted Justice Anthony Kennedy to ask a lawyer why people couldn't simply use V-chips to prevent children from playing violent video games. The lawyer had to "politely explain" that V-chips only work for TV programming.
Not very promising. Come on, Supreme Court Justices, get your act together! It can't feel good to be behind the Queen of England.
Have a tip we should know? tips@mediaite.com