The Common Thread Between Glenn Beck, Sarah Palin, Jimmy Fallon And Jersey Shore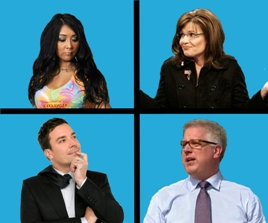 In the 16 months since we launched Mediaite, there have been certain topics that we as a site (and me, in particular) have taken a major, sometimes obsessive, interest in.
As I head out today, I want to connect what I see as the common thread between some of my favorite topics to cover.
As we've written about the media, and millions have made their way to Mediaite, it has been great to know the media world is reading too.
Well…




Yeah, sure, Keith. Anyway, here are four media figures I believe have revolutionized aspects of the politics, media and pop culture world that Mediaite operates in.
• Glenn Beck: revolutionized the personal brand. This could have been chalked up to "cable news" but Beck goes far beyond that. There have been others who have revolutionized cable news before – Larry King, then Bill O'Reilly. To a lesser extent, Keith Olbermann and Anderson Cooper. But Beck's power goes far beyond his hour on Fox News. It was October 1, 2009 when I called Beck the new "King of all Media," and the past year-plus has only proven that. His August rally was unprecedented by a media figure (at the time, of course) and seeing his stage show displayed Beck in a whole new light.
Glynnis made the Oprah comparison, and it is certainly apt. But it isn't just the books he talks about that go gold – it's the ones he writes too. And he has staying power (I mean, he's got a 100-year plan).
I get asked a lot about what feeds our obsession with Glenn Beck here, and it boils down to two distinct factors. Politics aside, Beck puts out an entertaining and surprising product in an industry that desperately longs for such things. And while he tears up and makes some outlandish statements sometimes, there is a raw, self-awareness that encompasses Beck – if you take him seriously when he's being serious, he can laugh with you when you laugh at some of the ridiculousness. As easy as that sounds, it is unbelievably rare in the world of celebrity.
• Sarah Palin: revolutionized politics. No matter what happens in the political world over the next two years, Sarah Palin will go down as a media genius. The former Alaskan Governor was the subject of our very first top story here at Mediaite, just days after she left the office. Even then, we knew: "We're curious what's up, Gov. Palin, and nobody is interested in you going away. If you went away, who would the media have to kick around?"
In the subsequent 16 months, no other topic has been written about more, with countless stories about Palin on Mediaite (well, not exactly countless – more than 1,000 stories have mentioned her). She has become the true standard for how to successfully use a Facebook page, and her Twitter feed continues to have influence as well. When she releases a YouTube video, the media salivates with potential angles of excitement.
It's not because they don't like her either – I believe that we here at Mediaite see her as a phenomenon. Palin is a success anomaly. She has an unmatched ability to use every mistake she makes to its biggest possible advantage. Who else can misspell a word on Twitter and have it become word of the year? Or get caught writing notes on her hand, only to incorporate it into future political speeches? Or turn embarrassing interview answers into tag lines for her own reality show? Whether Sarah Palin is ever elected President or not, she has transformed the way politicians need to think about their careers – and very few can say that about their field.
• Jimmy Fallon: revolutionized late night TV. It was nearly a year ago that I said Jimmy Fallon was the future of broadcast TV, but you could make the same case for late night television specifically. After speaking with Fallon and his producers Mike Shoemaker and Gavin Purcell, it was clear the show simply had a different DNA than others like it. The Late Night offering marries the important TV product with a vibrant and unique web presence, that involves the site but also social media. There are moments that occur on the air – a duet with Bruce Springsteen singing "Whip My Hair" or a highly-produced Glee parody – that play to Fallon's strength but also exist in another, important way online.
When Conan O'Brien made his return two weeks ago, it came after an enormous and successful social media campaign. But so far, the show itself hasn't converged with the digital property in the same way Fallon has managed to incorporate the two. In some cases, Fallon quite literally did both – he watched the show at 12:35amET with staff for a week, with a webcam in the room and broadcast to his site, interacting with viewers. There will come a time when all shows have to be as web savvy as Fallon's Late Night – in fact, Jay Leno's Tonight Show 2.0 has started to engage much more actively. But Fallon is still leading the revolution.
• Jersey Shore: revolutionized reality TV. Alright, alright. I admit, I'm probably the lone voice on Mediaite who has driven the Jersey Shore train since the very beginning. After the first episode almost a year ago, I said it was "the worst best show of all time". After two full seasons, I still believe it.
The main thing that differentiated Snooki and The Situation from the hundreds of reality show contestants before was their ability to be compelling while remaining delightfully unaware. They were who they were – and we loved them for it. It's what got Sen. John McCain to form an odd friendship (over Twitter) with Snooki. It led the diminutive over-tanned sex-leprechaun to be profiled by the New York Times and get some Sunday current affairs shows shout-outs. As season two began, I worried about The Self-Awareness Dilemma – had fame caused them to see what we saw all along? By the finale of this season, I believe we had our unfortunate answer. While dozens of networks try to duplicate the guido success, none have been able to do it correctly, because everyone knows now. Network executives who wants a ground-breaking reality show need to re-revolutionize the industry, by finding another group to entertain us, with complete and utter non-acting.
—–
And with that, I'm out. It's been a pleasure covering the business at this exciting time, here with all of you, and the opportunity has been tremendous. Follow me on Twitter here, and I hope to see you all in some capacity very soon. At least I'll keep my fingers crossed that Mediaite – this compelling, widely read site – writes about the new show I'll be working on.
Have a tip we should know? tips@mediaite.com